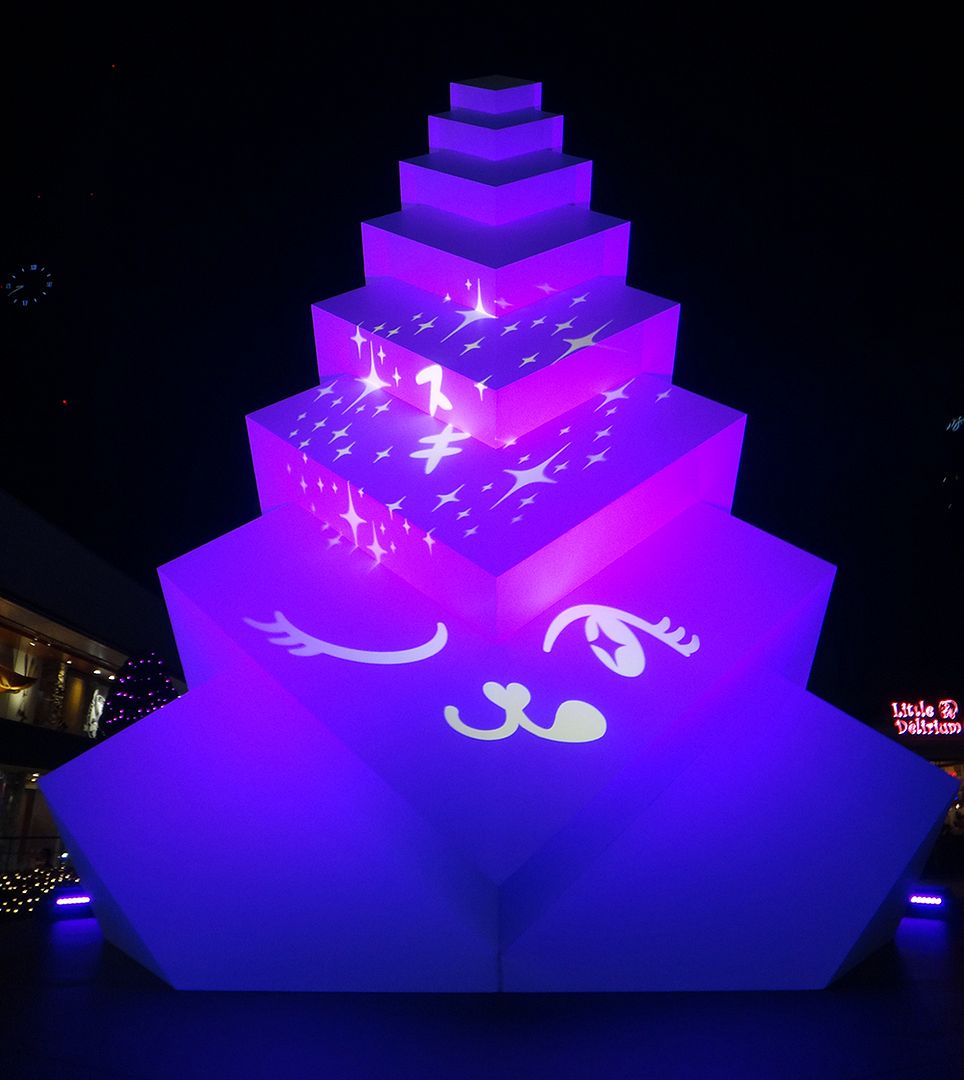 I mean rising sun.... It's just that we went there in winter and it always seemed like the sun was going down way too early. It's my Japan trip I'm talking about, by the way.

As before, it was a non-stop thrill ride of thrills, thrills and thrills. Such a great place is Japan and everyone should take a bank loan (no matter the interest) and go there for a visit. I fully recommend having no regrets about such an action.
Here is a run-down of what we did this time:
We got on the plane to Sydney then waited the five or six hours until our flight to Tokyo.
It was summer in Australia 'allegedly' but it seemed the weather in Sydney was being a real pal and acclimatising us to the Japan winter by being severely miserable and cold.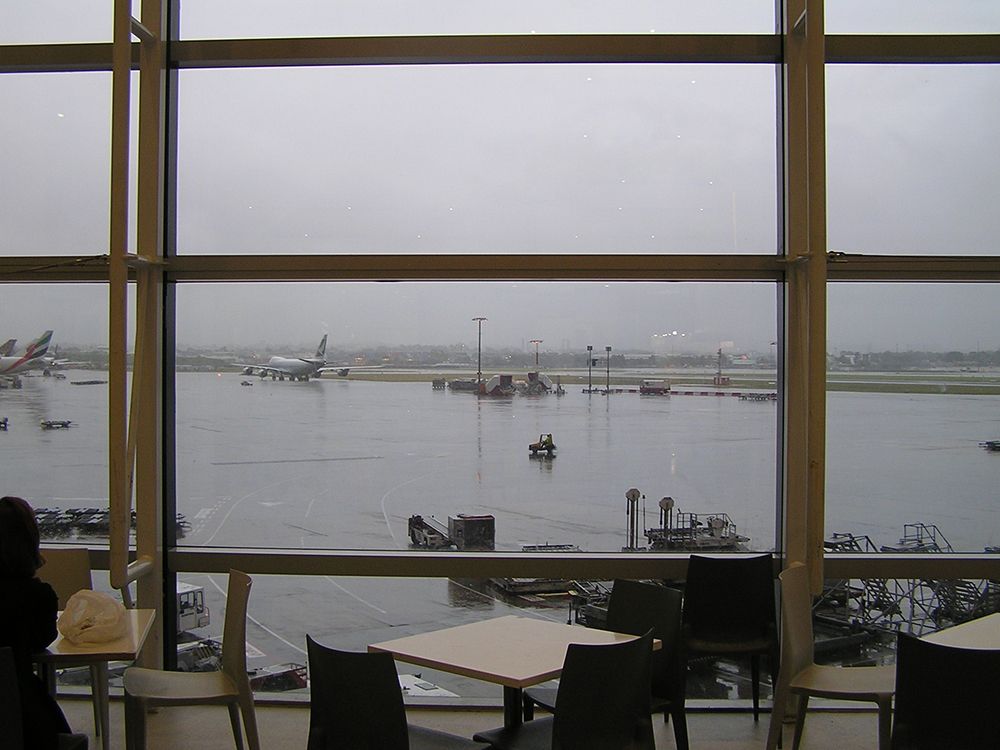 I had meant to read some Pokemon Adventure mangas but instead accidentally read the entire 1990 "Inquisitor" Warhammer 40,000 novel.
On the plane to Tokyo I watched the new Fantastic Four movie. I should have just listened to the baby screaming in the next row, it would have been better.
After barely sleeping we arrived in Japan at 5:30 AM, around 5 hours too early to do anything useful. Luckily the red tape of the airport, hotel and the insanity of the train stations kept us amused until the Pokemon Centre opened. Like last time, that was our first port of call.
After some shopping there and at the other stores in the area, we crashed in our hotel room for a much needed shower and to bask in the first of our loot.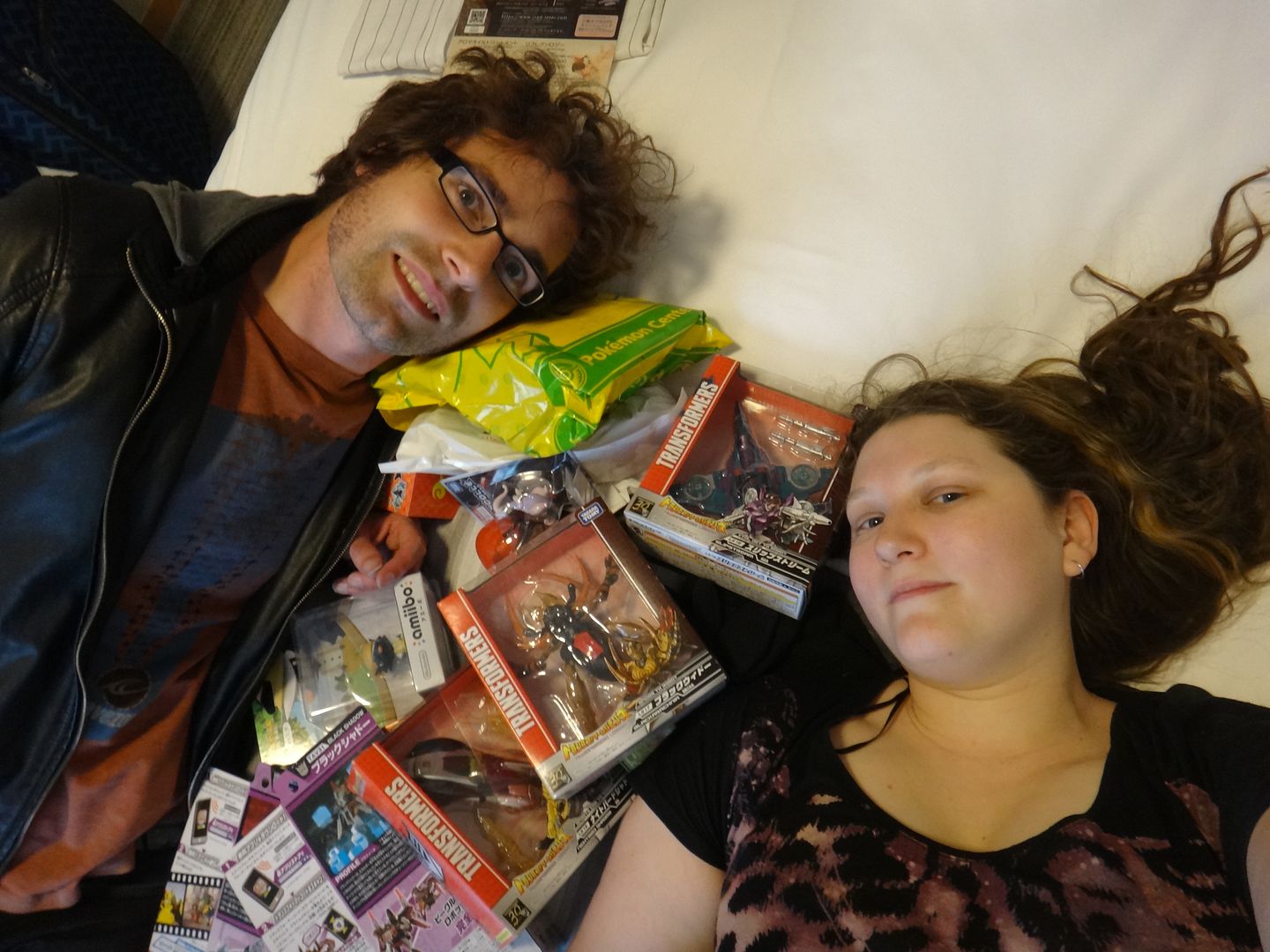 We had a nap in the afternoon and got up again to walk around Shinjuku. It was really pretty with all its lights and Christmassy stuff. It was so bizarre having Christmas stuff about during winter. That big sculpture thing had holograms playing on it and a ball out front that when you and a friend put your hands on it, it picked a type of power for you. G and I got 'cute power' with an adorable cat image being projected on the sculpture.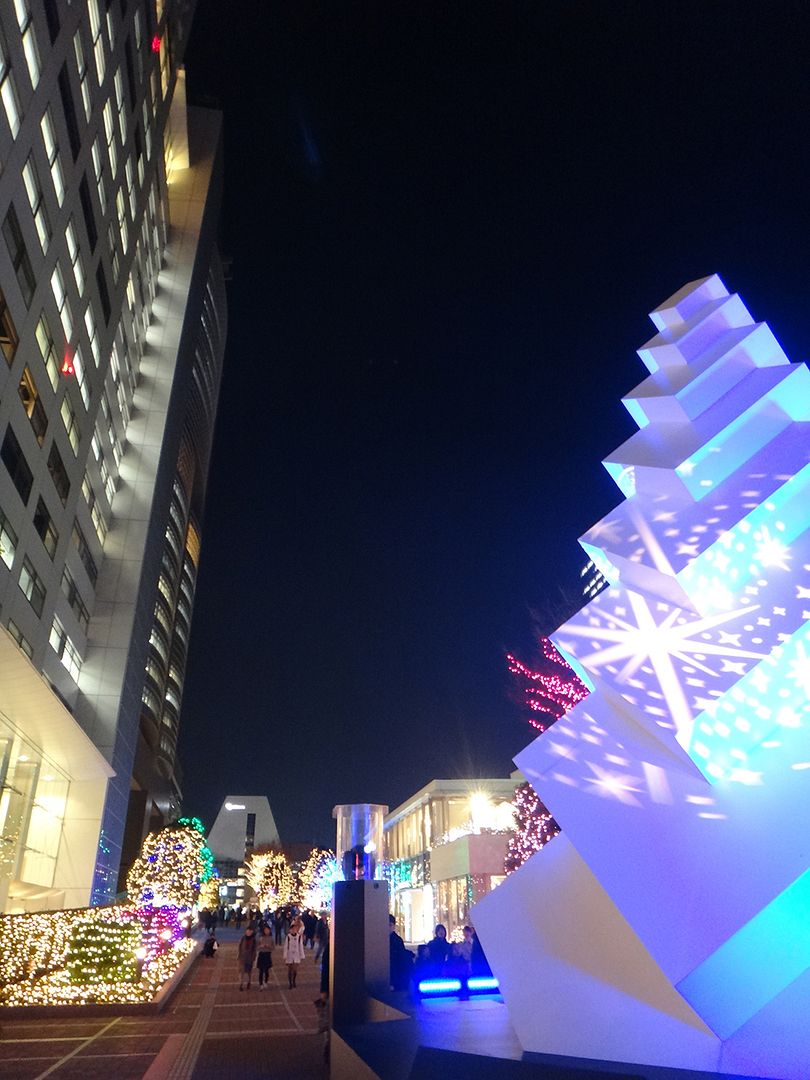 The 7-11's in Japan are amazing and keep foreigners alive at a minimum price. Here is me having my first dinner of ramen with obligatory swirly thing stuck to face. (Getting that slippery hot thing to stay on my face was more difficult than I had expected.)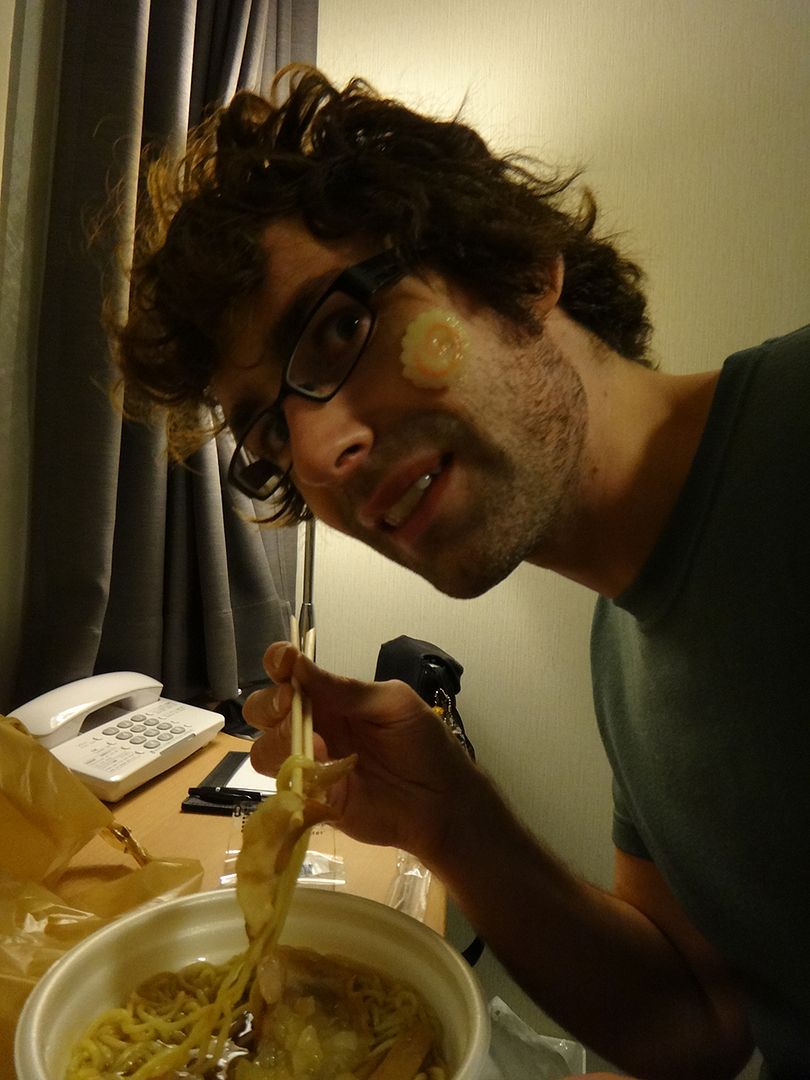 The next day we went to Akihabara, the anime and weird people capital of the known universe. It was as super awesome as I remembered, and we hit up the Kotobukiya and Mandarake stores with all haste!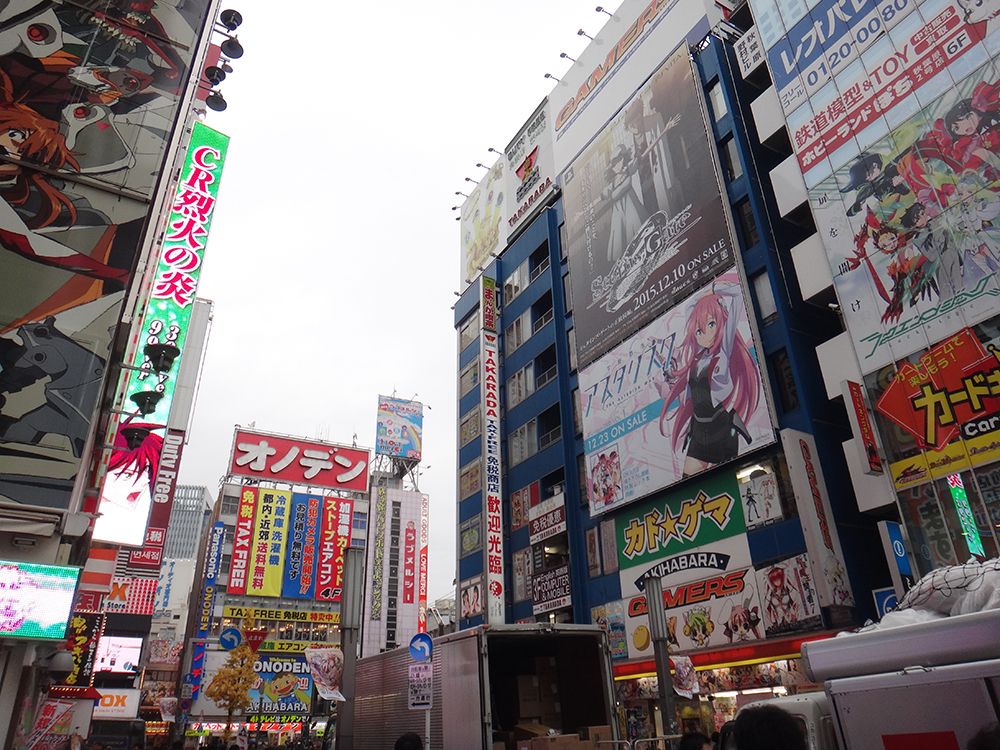 Keeping in mind our difficulties in packing all our merchandise the last time we came to Japan, I endeavoured to minimise my buying…
For about one second.
Akihabs, like the whole rest of the continent, had caught Star Wars fever big time. All the stores had huge Star Wars displays and the music was blaring out of every building.
The following day we were taking a train to Omachi to see my lil' sister, but before that we went to a big park in Tokyo that was really beautiful. It was festooned with all manner of plants, gigantic green houses and temples.
It's so odd being in a city where every millimetre of space has a fifty storey building on it, and in the middle of it all, a gigantic park with huge expanses of nothing but grass.
On the train we had a catalogue of items that could be purchased. I guess Japan has a reputation for being weird for a reason.
It was Christmas eve when we got to Omachi. The snow hadn't fallen yet but we still had hope. Britt met us at the station and we struggled back to her apartment with our suitcases.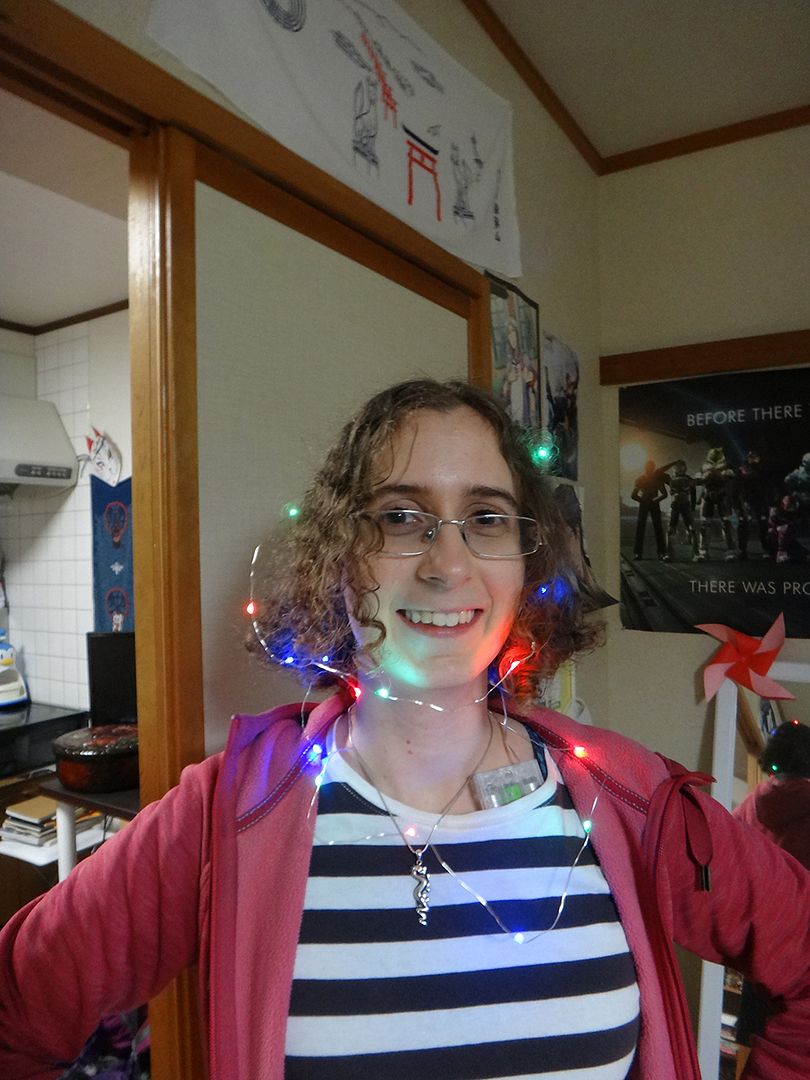 As you can see, we had our Christmas cheer on, and that evening we had traditional Japanese BBQ which was an awesome cultural experience as well as a delicious one! We had our own private booth and I had several giant beers.
As is our tradition, we stayed up 'til midnight, fuelled by insane Japanese snacks and booze, and opened our presents. Only in Japan could you buy a Slowbro toy with a Christmas tree for a tail, covered in Hoenn Starters.
It didn't snow, unfortunately, but it was still radical!
The next morning (or afternoon or whatever) we went to the fabled Coco's restaurant for food and the 190 yen (about $1.60) all-you-can-drink drink bar. Absolutely delicious and truly a Christmas miracle. I had six hot drinks each time we went there, which was three. I discovered I love green tea latte's.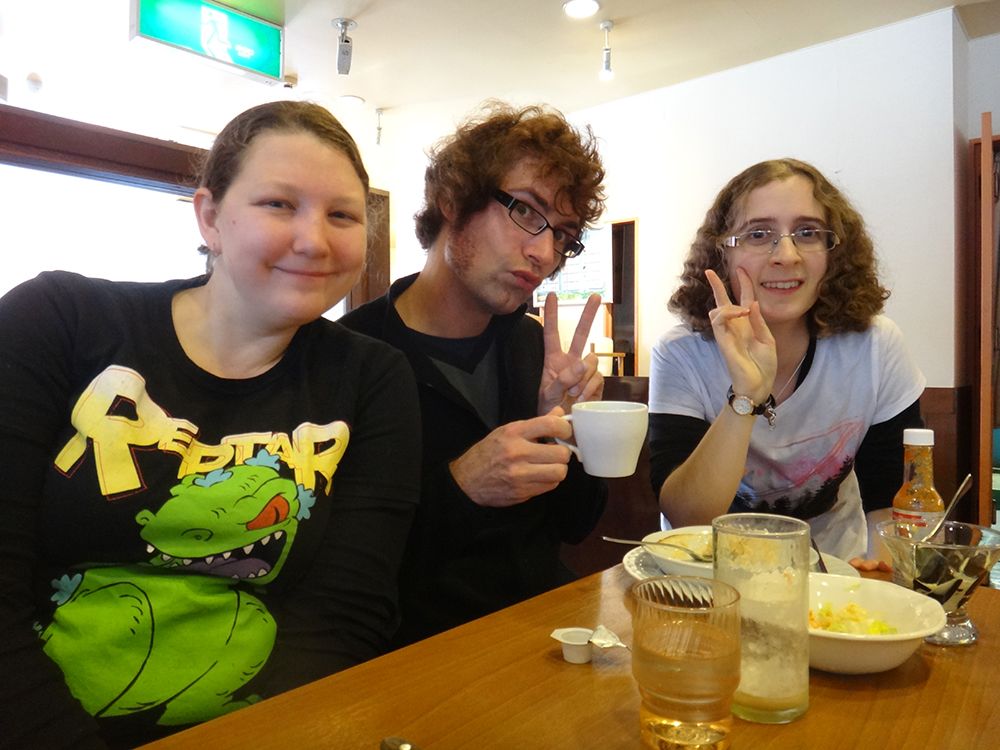 An interesting tradition in Japan is to have a Christmas cake, so after Coco's we went and bought one. That santa was surprisingly hard on the teeth.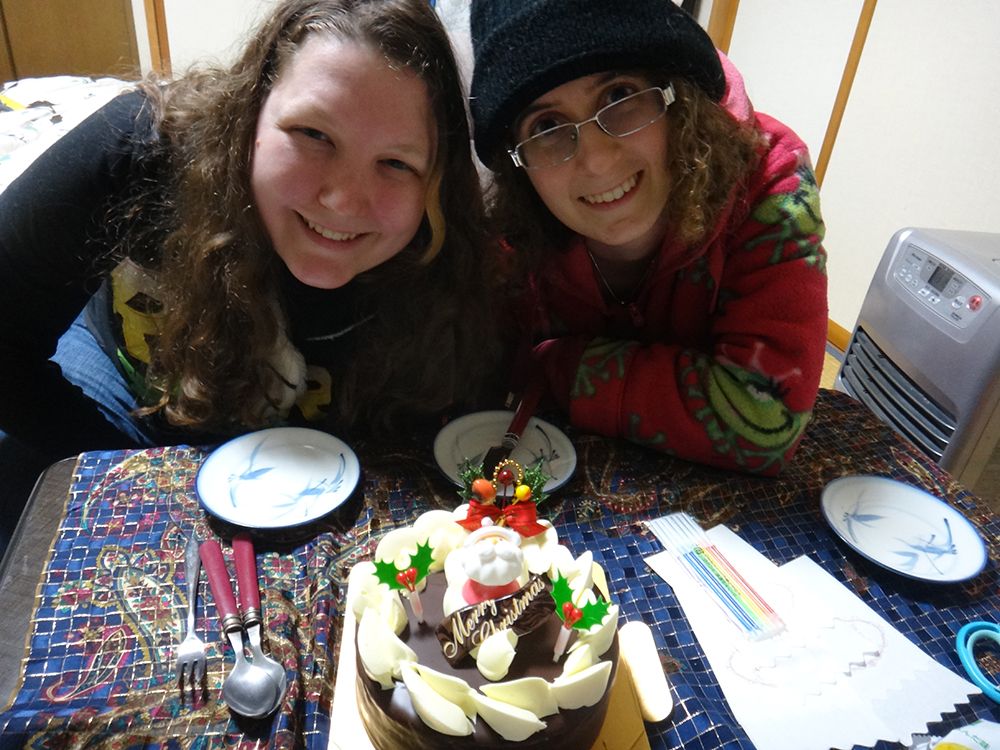 That evening we went out to have traditional ramen at a traditional ramen ramen restaurant. You could tell it was traditional because I had no idea what I was ordering and there were very loud drunk Japanese buisenessmen dropping their drinks on the table behind us. Also my legs hurt from kneeling. Such tradition.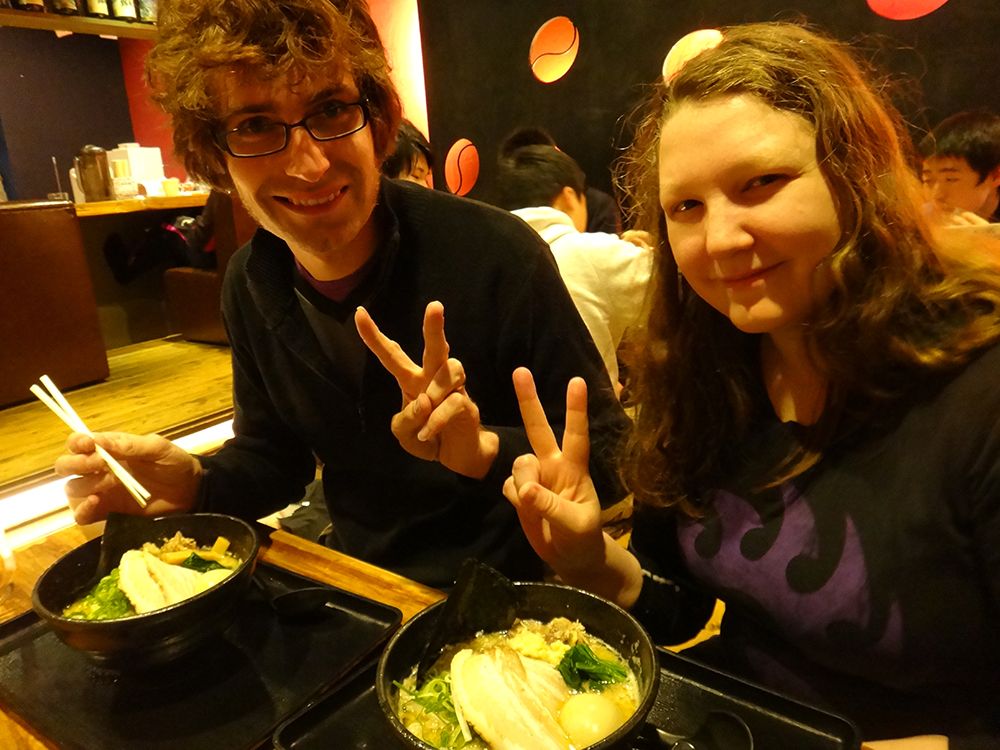 On Christmas night is actually snowed!! So we did have a white Christmas! I swear! This fall was a bit too light to remain for long into the next day however.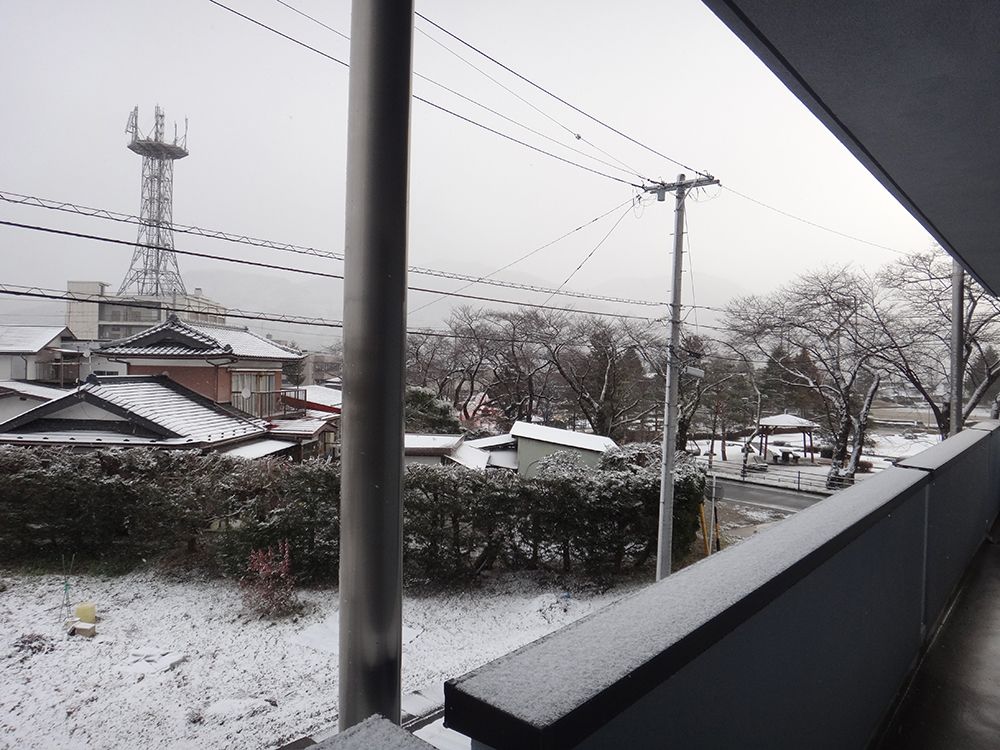 The next day we went to Matsumoto castle, the oldest remaining Japanese castle in its original condition. It was pretty damn awesome, and the stairs were as awesome as they were insane. Good luck trying to storm this castle, you'll break all your ankles! (that of course, was the idea)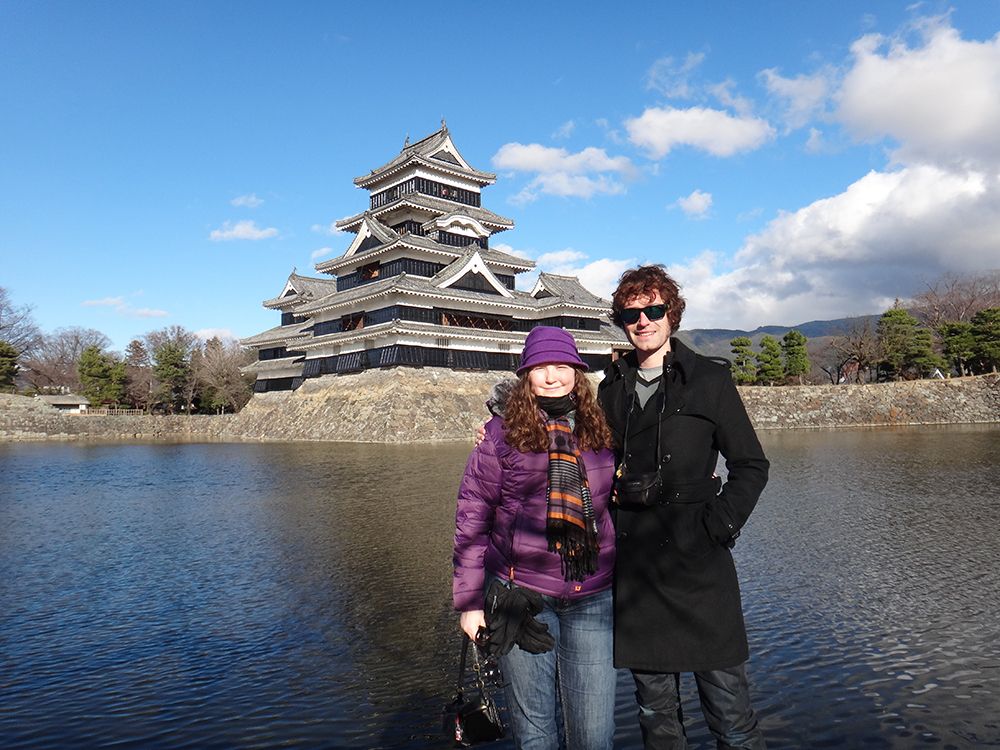 Picture with a samurai.
Picture with a Ninja. Tisk tisk, you shouldn't be able to take a photograph of a ninja. Lift your game, lad.
On the way back, me in the obligatory Fox shrine photo.
We wanted to go to a breathtaking place called the Kurobi dam, but damn that Kurobi! It was closed for the winter…. The chair lift was snowed in by the snow that didn't exist, apparently. So instead we went on a pretty awesome hike that showed us a cool view of the alps that border Omachi.
There was a shrine at the top of the mountain (as there is on every mountain in Japan, I assume) that was tranquil, deserted, and covered in snow.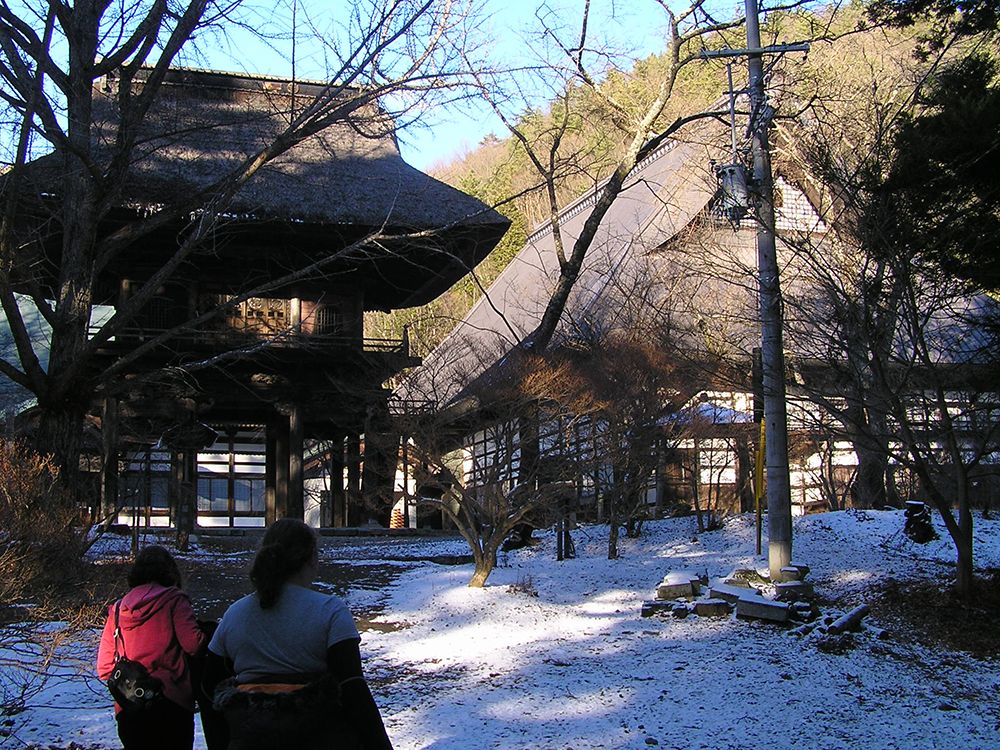 It was awesome. We somewhat broke the tranquillity by each ringing the enormous bell that was there. We each made a wish to the summoned spirits but I probably offended them by doing the claps and bows wrong.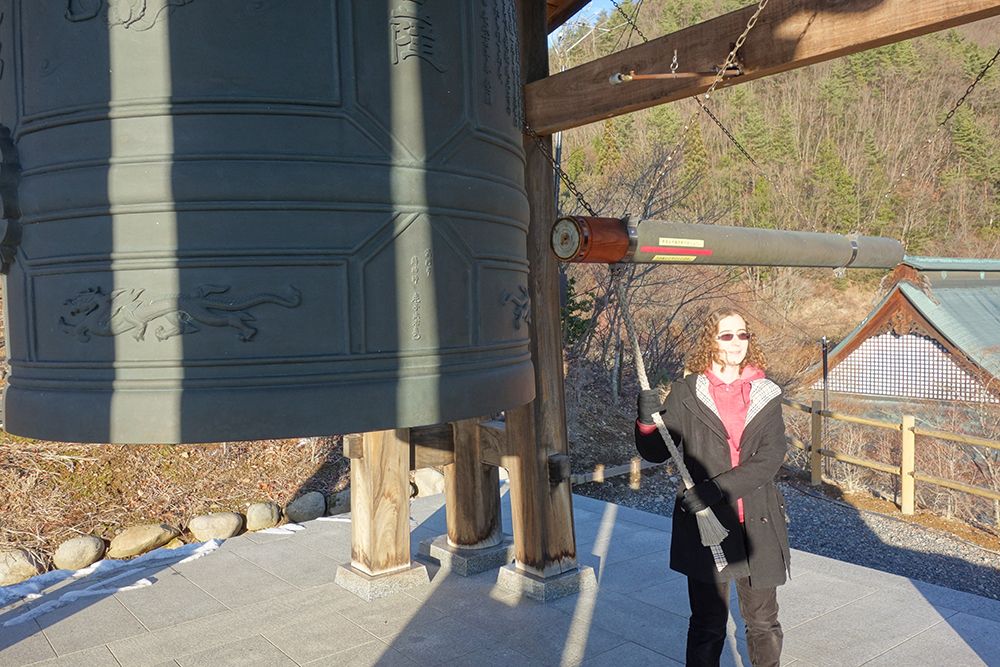 On the way down we found another shrine that was quite pretty also.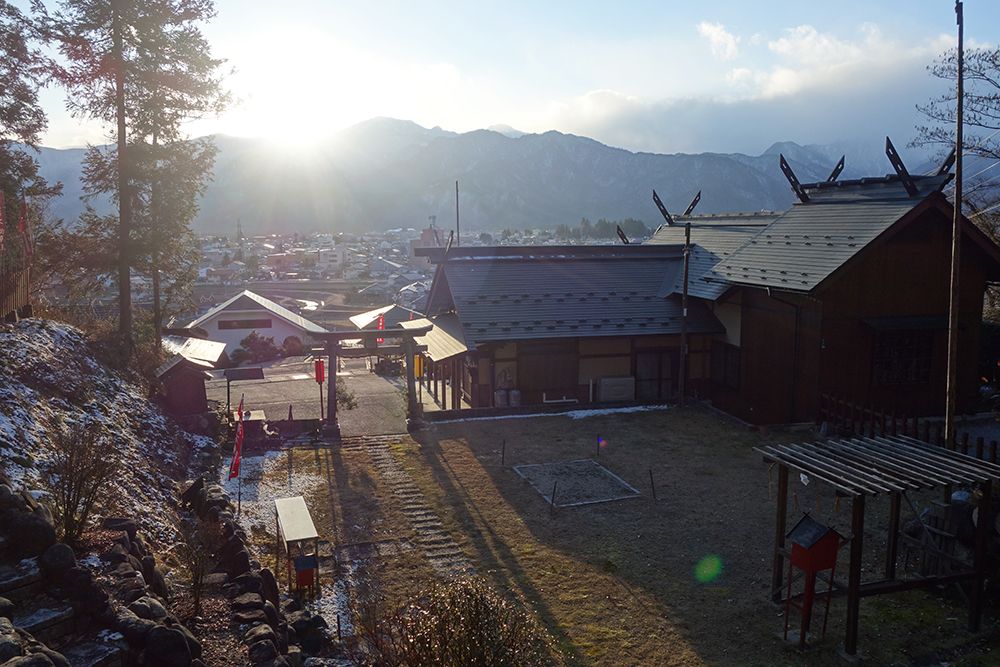 That night we went to a karaoke bar. Since a lot of the songs I like are very karaokeable, I was nearly always singing. I got this shot in the rare instance that I was not. On this night I discovered I can sound exactly like Elton John, Greenday, Meatloaf, Ultravox and the guy from Aqua.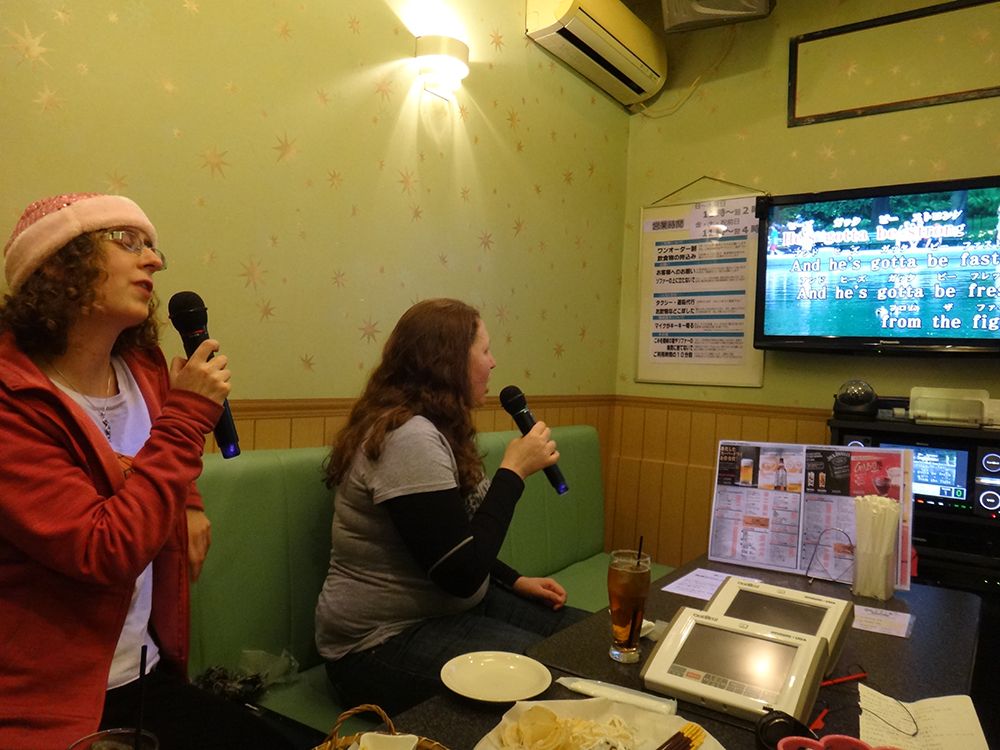 But wonder of wonders!!!! That night it snowed for real! It was the first time I'd been snowed on through a city!
It came in pretty thick and fast as we were walking back from Karaoke, enough so that after a few minutes there was heaps! We drew pictures in the snow, Britt wrote our names in Japanese, we smashed ice puddles, did snow angels, and basically gave all Australians a reputation for being idiots. That's okay, they all think we're Americans.
By the time we got back to Britt's place, the snow was thick enough to have snowball fights, make snowmen in the park and sweep huge, powdery drifts from the surfaces of everything. Probably the most magical part of the trip, but it was dark so only Britt's sorcerous demon camera had any hope of capturing it.
The next day was when we were going back to Tokyo, but with Britt asleep and unresponsive, G and I went for one last trip to Coco's. The snow was melting fast, but it still looked amazing as we walked down to get the eats.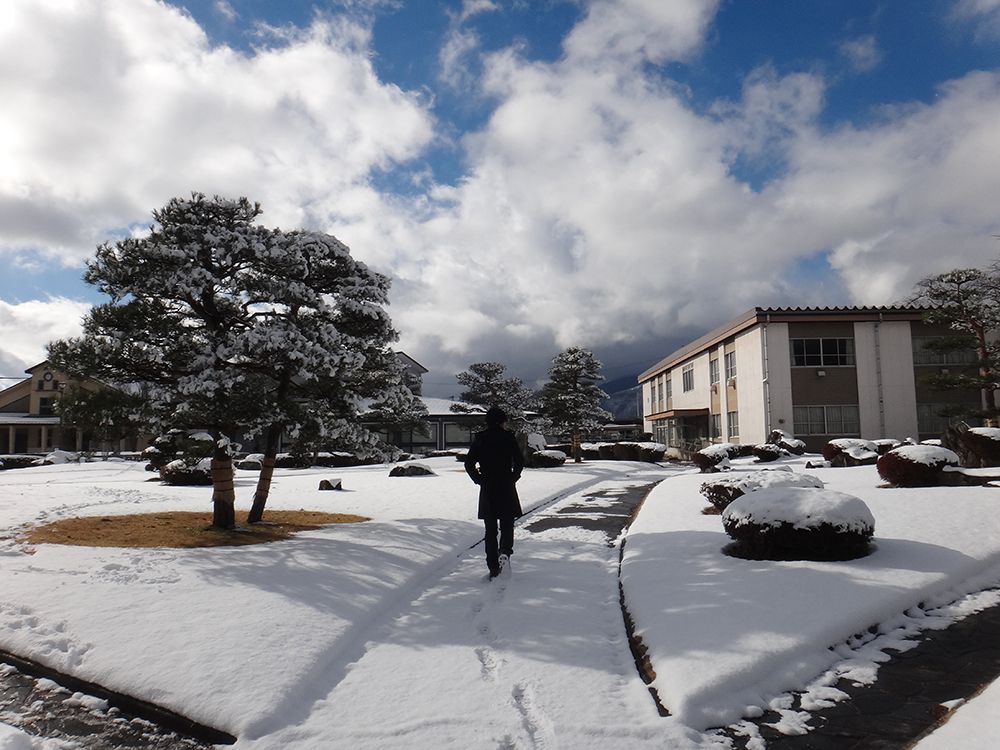 We took the train back to the big city, seeing a pretty good view of Mt Fuji on the way.
We finally got into our hotel room after a lengthy discussion in various broken languages with the staff there. The reception seemed to be straight out of 1995. I haven't seen fax machines or carbon paper in a long time. Talk about doing the time warp.
Our frustrations ebbed however when we saw the view from our hotel room. It was insane! We even had a view of the cinema, which had a giant (or slightly smaller than life size) Godzilla statue smashing out of it.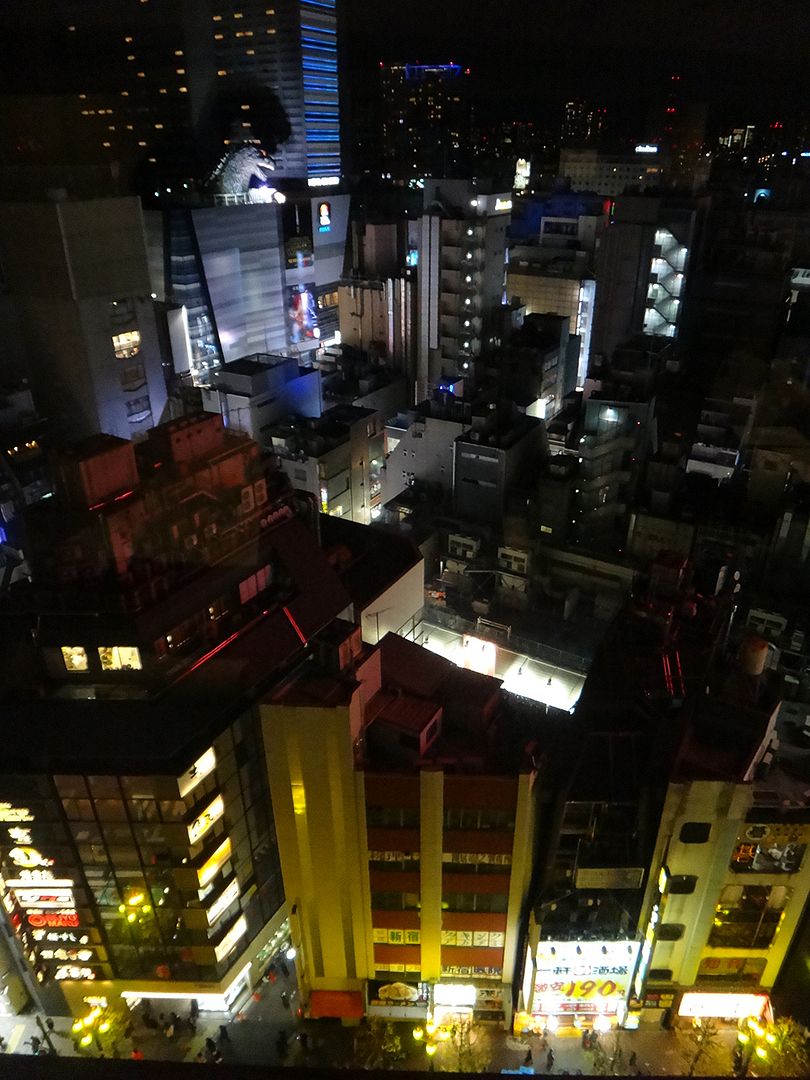 The following day we went to two places: Ikebukero and Shibuya. The first was where the Evangellion store was, and I simply had to see that.
It also had a gundam shop the size of any department store in Hobart, and many other model stores in which to buy model kits, which I promptly did.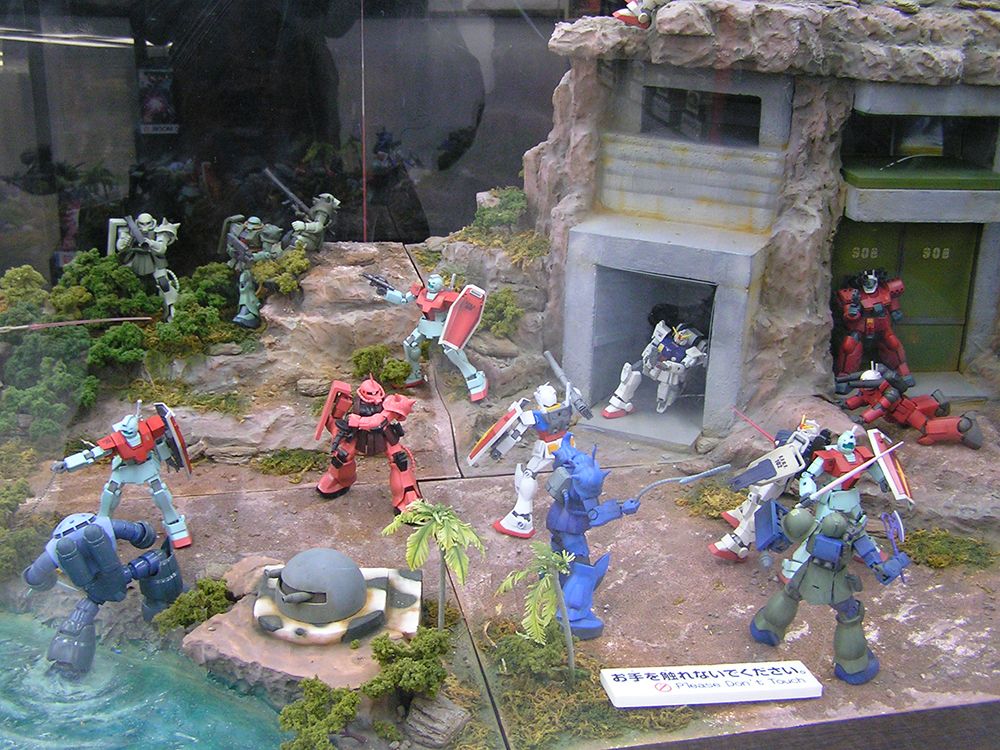 On the way to finding none of the shops in Shibuya I wanted to look at, we discovered a cool Disney store, filled with winding staircases and sculptures of Disney characters. Japan loves the hell out of Disney, in case you didn't already know.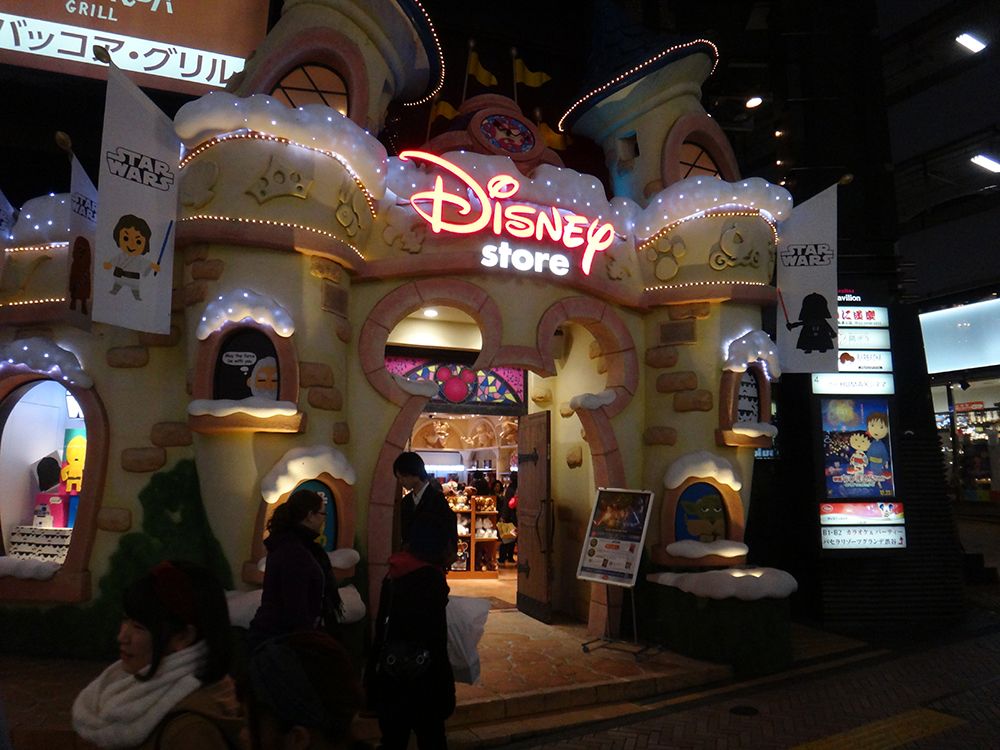 Domo bus.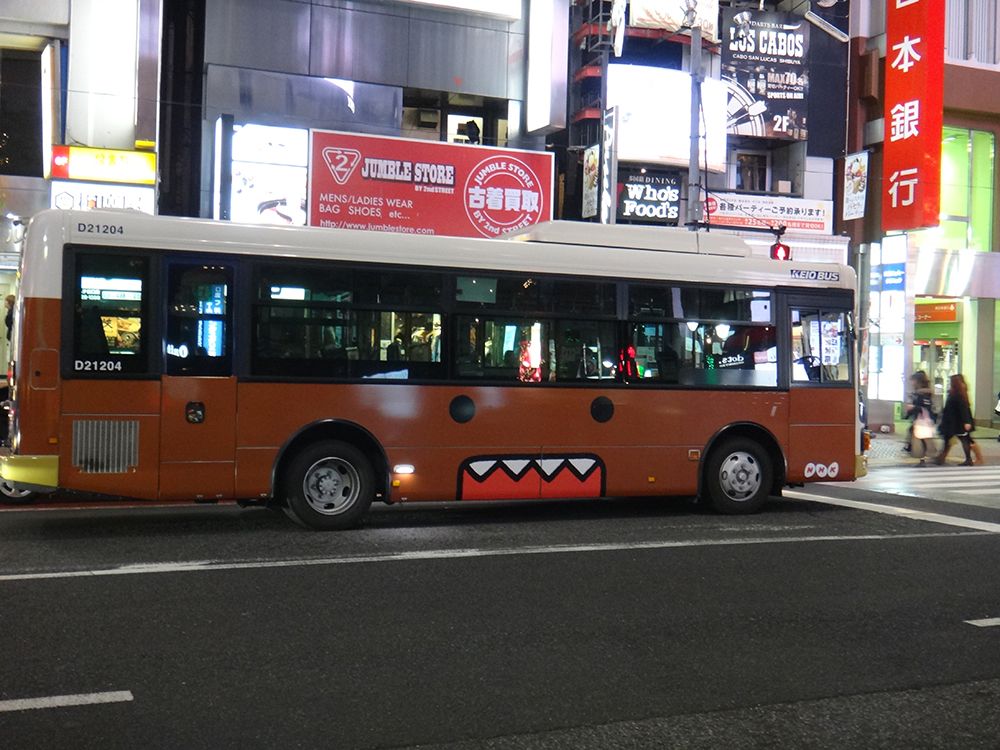 The one store we did find turned out to be a multi-story goldmine. Each level of 'Kiddyland' was filled with awesome things from Disney, Studio Ghibli, every anime franchise and much more. This cool Optimus timeline thing was on one of the staircases within.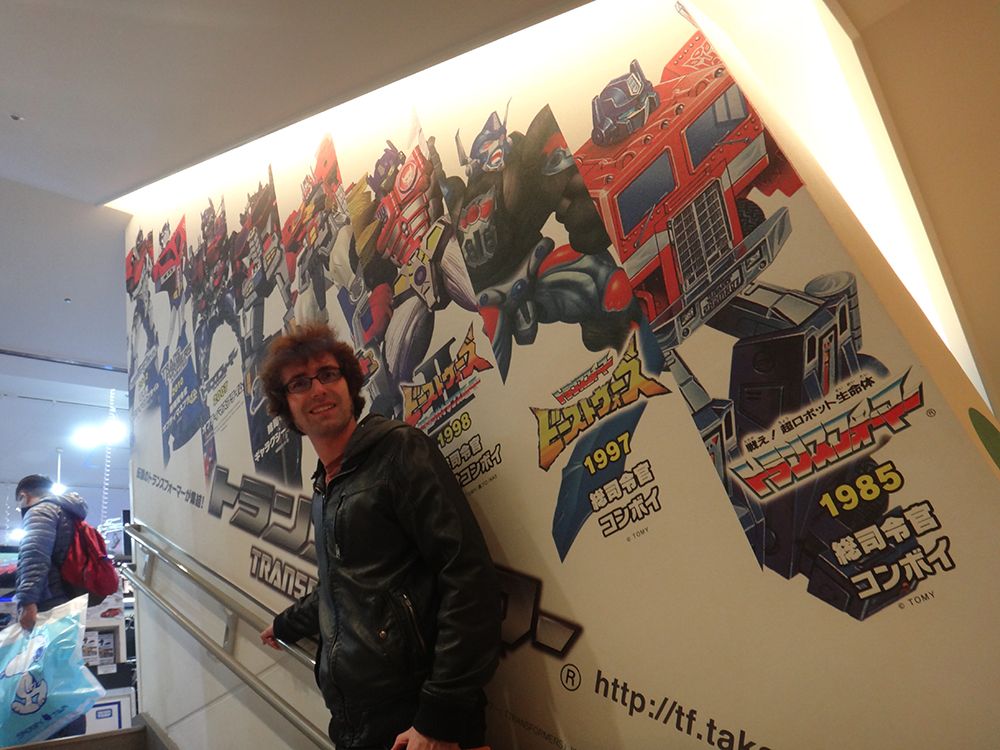 And of course you can't go to Shibuya without almost being killed on the biggest crosswalk in the world.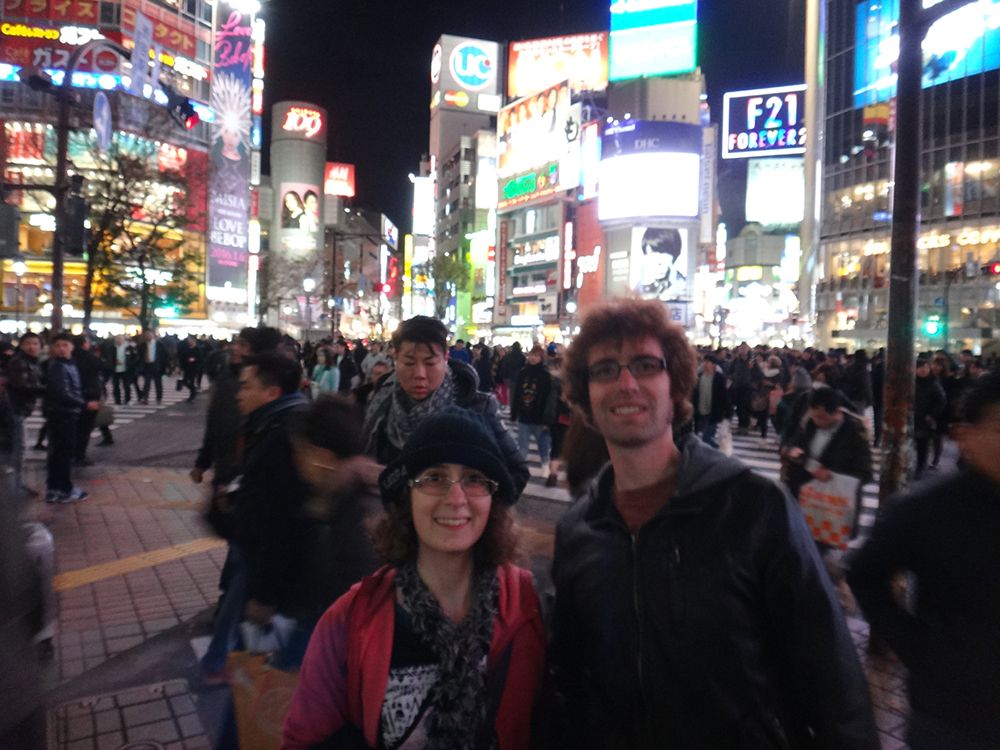 On New Years eve we watched Star Wars in 3D Imax. The twenty foot high subtitles were a bit annoying at first but holy shit that movie was awesome. We only nit-picked it for about half an hour afterwards. Absolutely excellent.
One interesting thing in Japan is that nobody is allowed to leave a cinema until all the credits have finished rolling. This is somewhat of a lengthly experience for a movie as big as Star Wars, and doubly so for the Japanese audience who couldn't even read them.
A pretty damn big deal of a thing to do in Japan is to go to the Meiji shrine in Tokyo on new years eve. So, with bags of booze we never drank, we trundled off to do just that. It seemed a couple of million people had the same idea, so we were in line, shuffling for an hour and a half before we made it to the shrine and threw some money in. Bragging rights achieved, baby.
1st of January. A place I really wanted to go to again was Odaiba, the place with the life-size gundam. On our way through last time, we noticed a whole mess of cool things we didn't have time for. We took a gigantic ferris wheel that showed amazing scenes of the sunset over the buildings.
This isn't the best shot, but it has Mount Fuji in the background, so it is.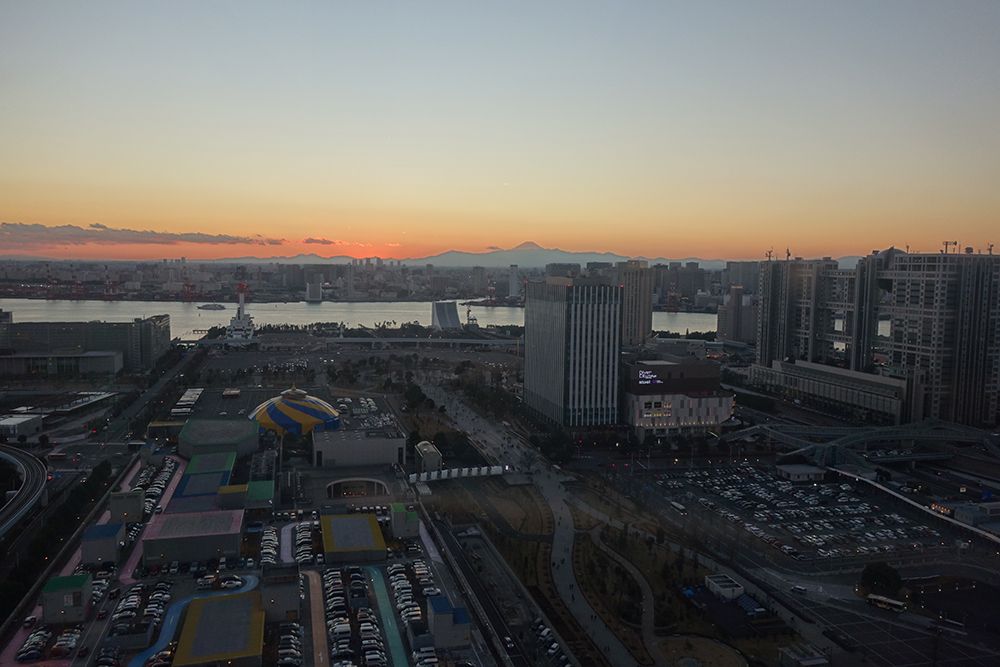 I got to see the gundam at night this time, with a radical light show and movie playing in the background, so it was a totally different experience from last time. So amazing.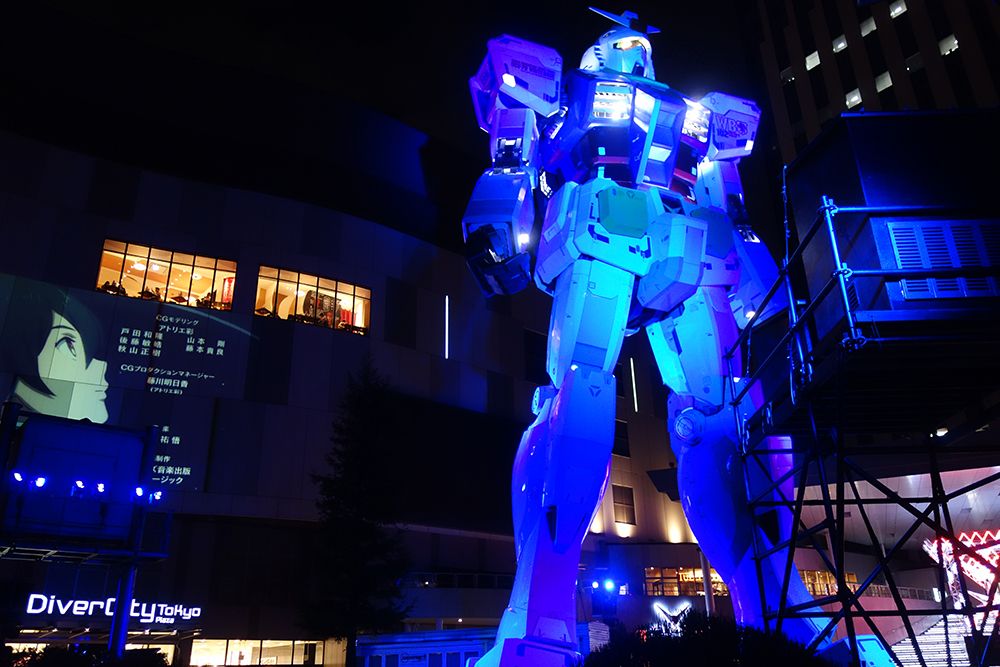 We wandered through the many Odaiba shops, Joyopolis, Palette Town (which is a little bigger than it appears to be in the Pokemon games, and had dinner at an 'Italian' restaurant with the majestic rainbow bridge in the background. No Asgardians appeared though, unfortunately.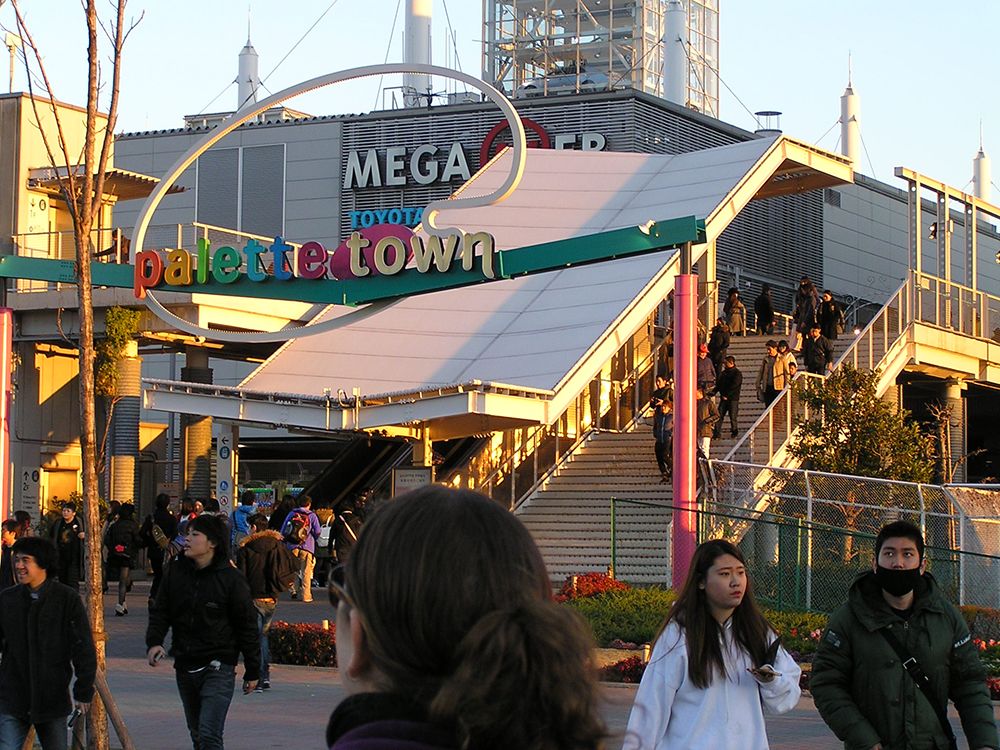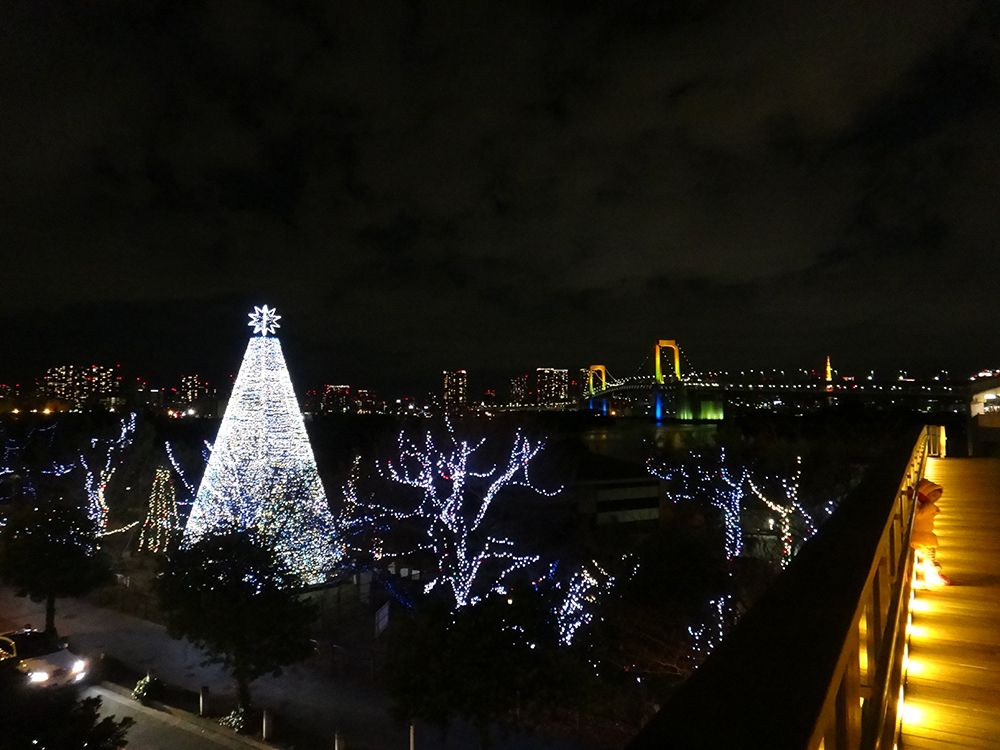 One of the shopping centres we went to had a giant Shenron…Shenlong…Rayquaza, and also an animatronic Frieza who talked to people who came close.
Britt can read Japanese, and as such she has been playing a radical Digimon game that was never brought to the west by what I can only assume was an act of pure Satan. Anyway, that game is set in a very realistic Japan and features a place called Nakano Broadway that Britt insisted we visit. I'm glad she did because it was absolutely amazing. Akihabara amazing. Perhaps more.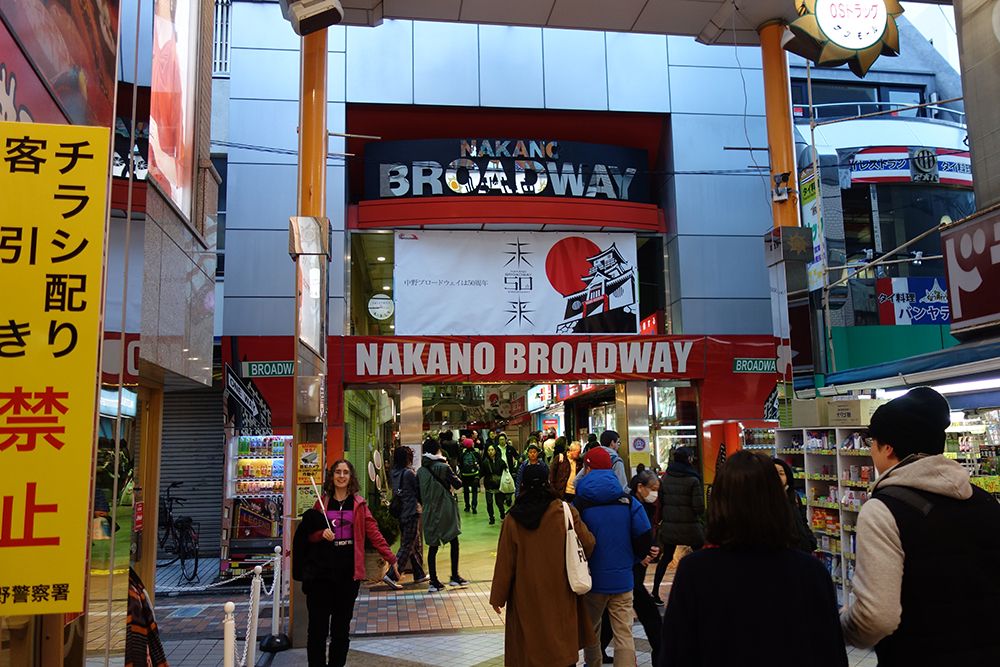 The stores within held such anime and pop culture delight that I almost had a seizure. Also, I have never seen so many rare transformers in my entire life.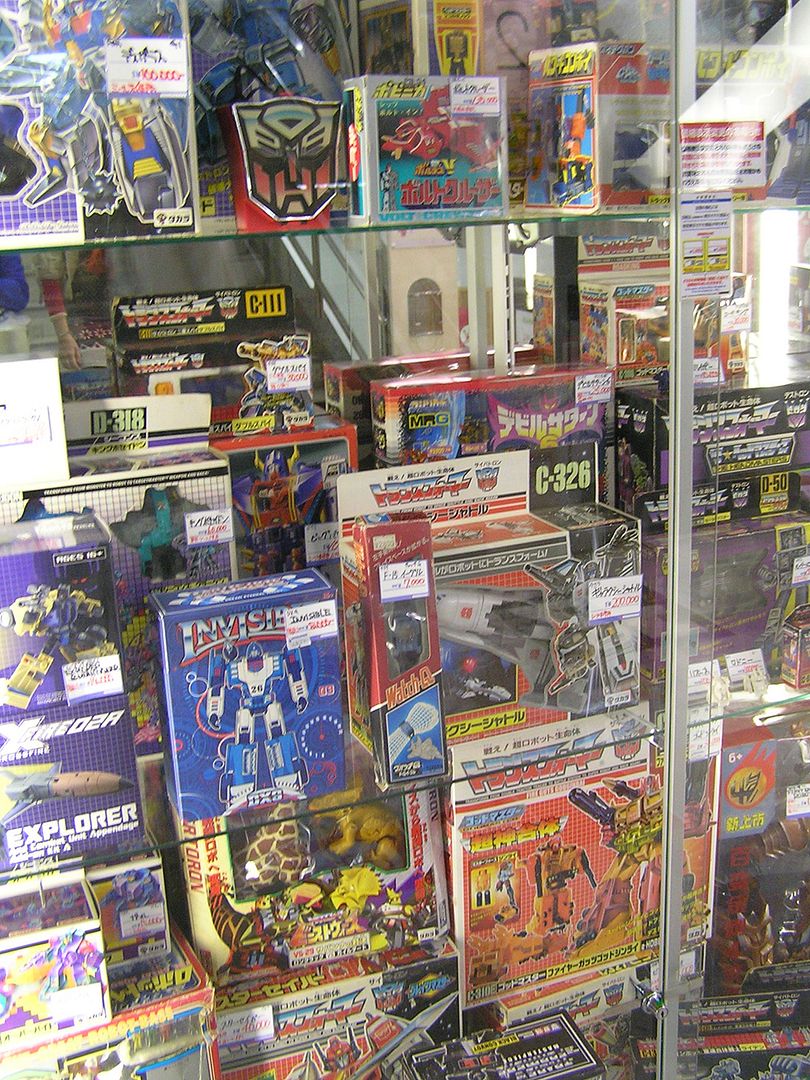 Too bad I had limited luggage space. I managed to pick up a large amount of awesome things none-the-less.
On the 2nd of January we had the opportunity to partake in a rare treat. On this day the Imperial palace is opened to the public and the Emperor of Japan himself makes a public address to the people. We were veterans at standing line by now, so we waited patiently in the palace grounds, along with several trillion (I assume) other people doing the same.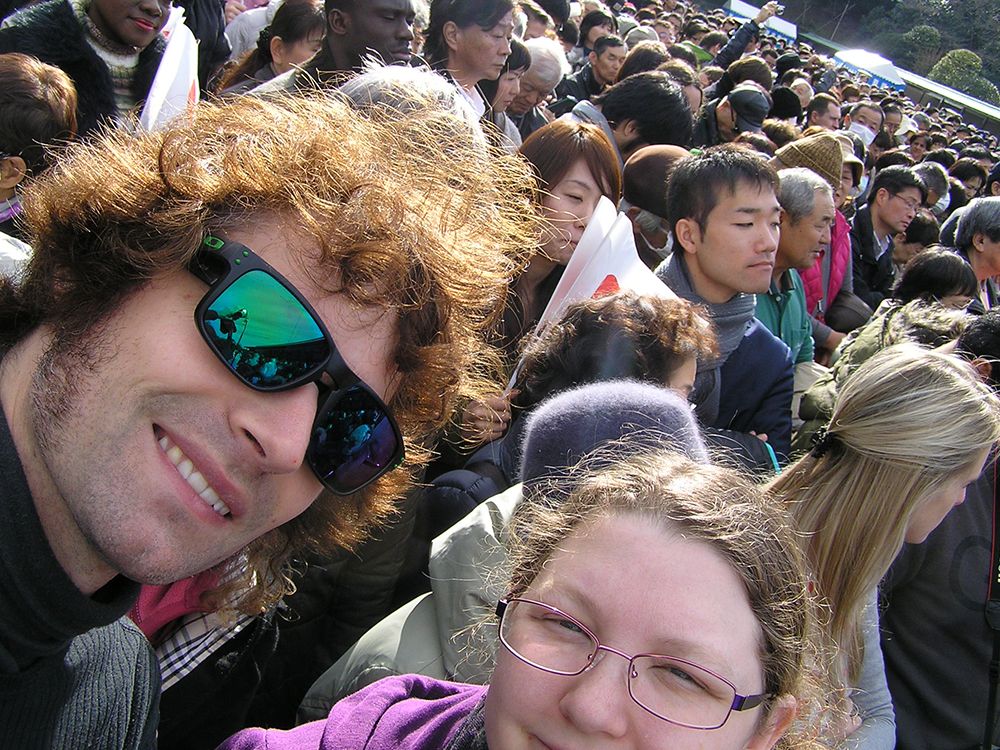 The policemen thanked us for our patience during their extensive terror threat searches by giving us all Japanese flags. When the Emperor finally appeared, the crowd went crazy! So much red and white and people shouting Banzai! It was a wonder anyone could even see through the sea of flags to see the Emperor.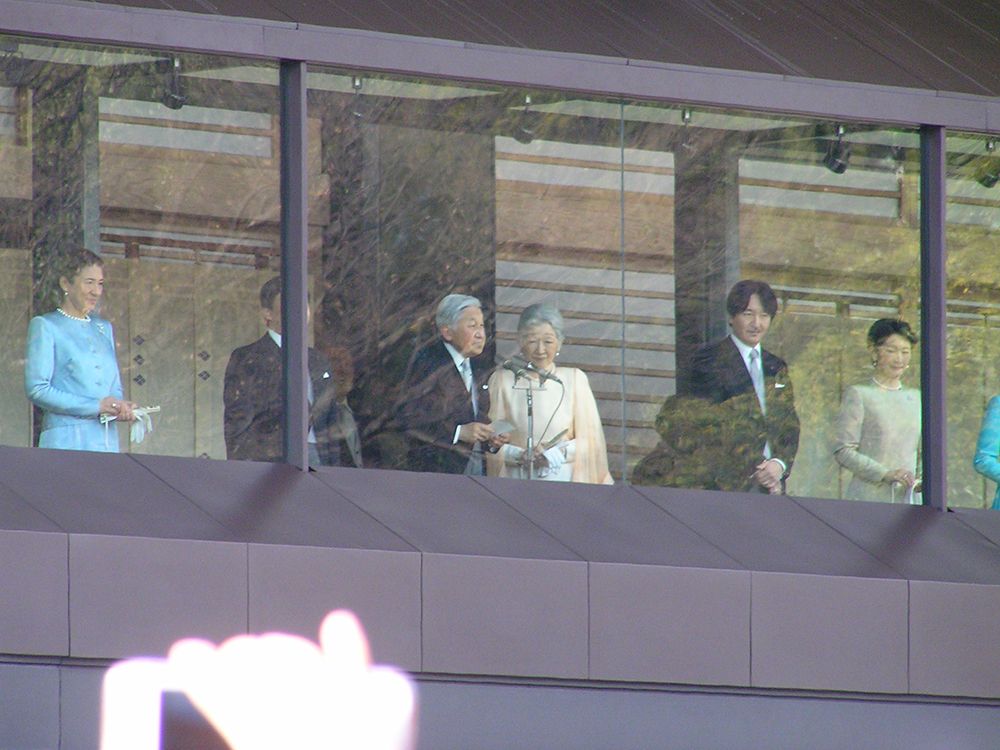 It was a bit of an ordeal bit it was cool to be there and hear the first words I'd ever heard of royalness. More bragging rights and the palace was nice.
The next day we went back to Akihabara for a look around. We went to a shrine that was dedicated to technology. Very metal.
Since we had already been, we planned to leave early and go up the Tokyo Skytree…. The monolithic entity that had denied us on our first trip to japan.
Getting up it was no easy task, however. We were hoping to see the view at dusk, but when we got there, the earliest we could get in was 8:00pm. So we stood in line to get a ticket that made us eligible to stand in line to pay for a ticket that allowed us to stand in line for the elevator that took us up. Many hours later we finally got up…and my god…was it worth it.
Photo's can't possibly capture it, but the 360 degree view was out of this world (almost literally) The Sky Tree is over six hundred metres tall, and we were at about 450m, but still, it was insane how much higher it was than the other buildings around it, and breathtaking how far into the distance you could see. Tokyo, it turns out, is a rather big, bright and beautiful city.
As a testament to how Star Wars mad Japan is right now, the top level of the Skytree was full of cabinets of probably thousands of Stormtrooper models, life size props, all manner of toys, projected images, screens showing documentaries, places where you could take photos with lightsabres…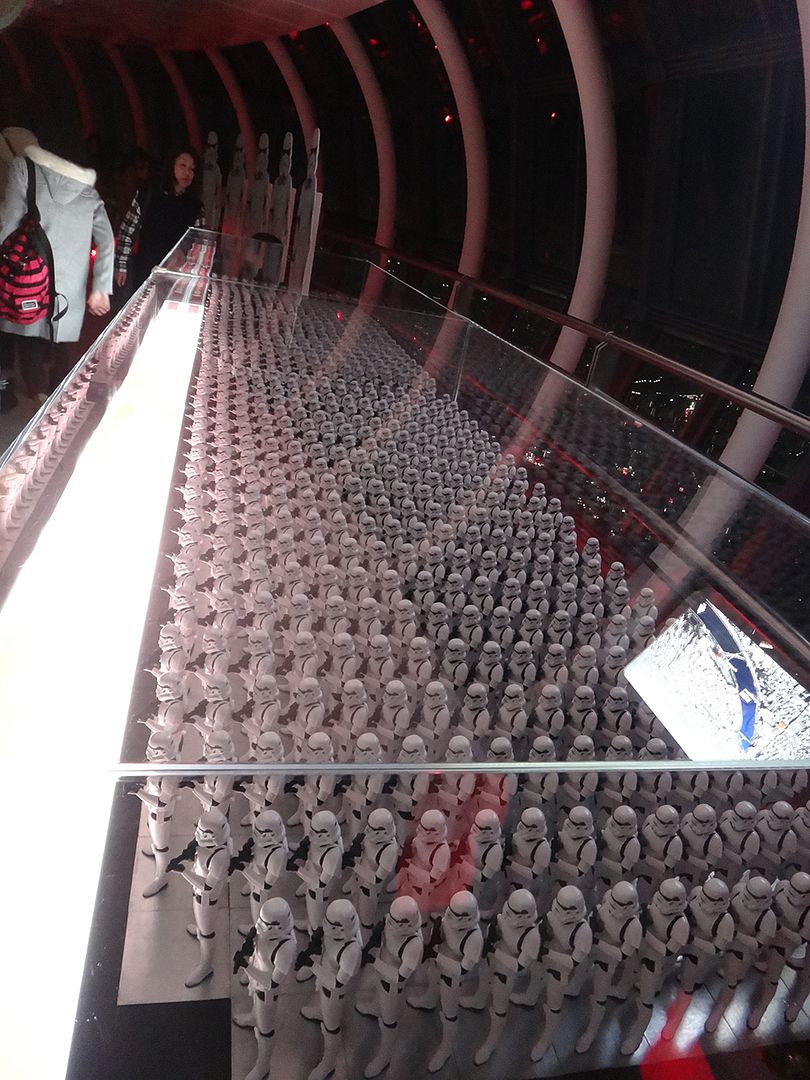 I mean I'm all for Star Wars but in this particular case I just wanted to see the damned view! These models are a little short to be Stormtroopers but they were still in my way!
I could have stayed up there for hours but G was getting tired from all the walking, so after standing on the portion of the floor that is made of glass and getting insane vertigo, we left the majesty and took the subway back to the hotel.
The next day was our last day in Japan. Sniff and sadness. I wanted to go to Yokohama, a seaside district, for a bit of a relaxing end to things. It was really beautiful, full of very interesting buildings, street performers, kite flyers, amusement parks and ships.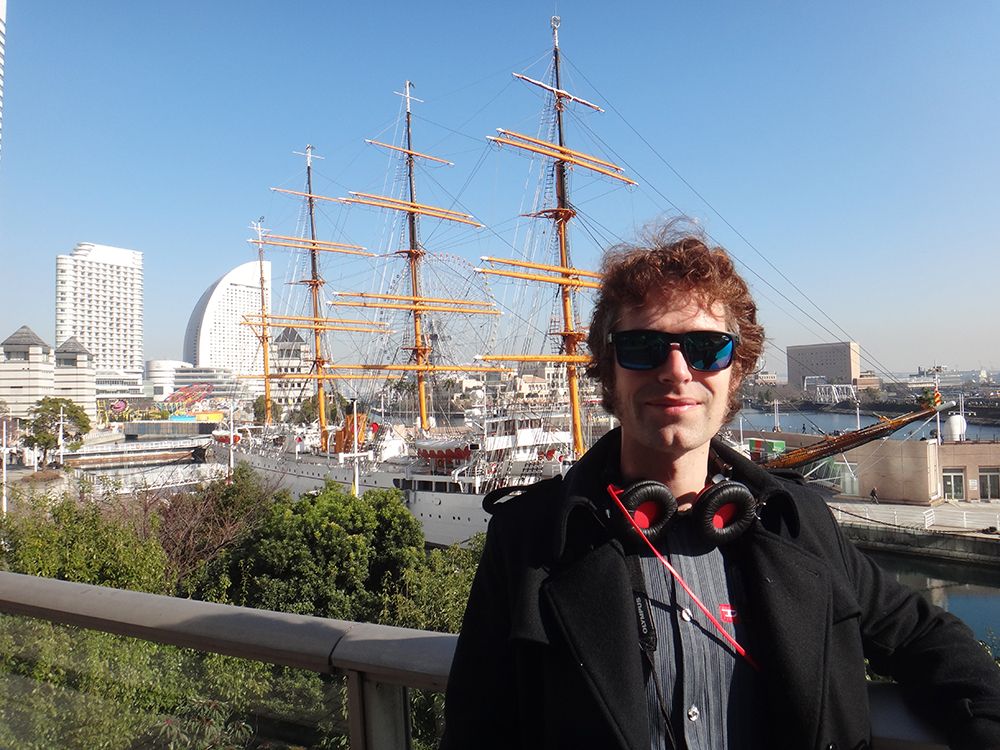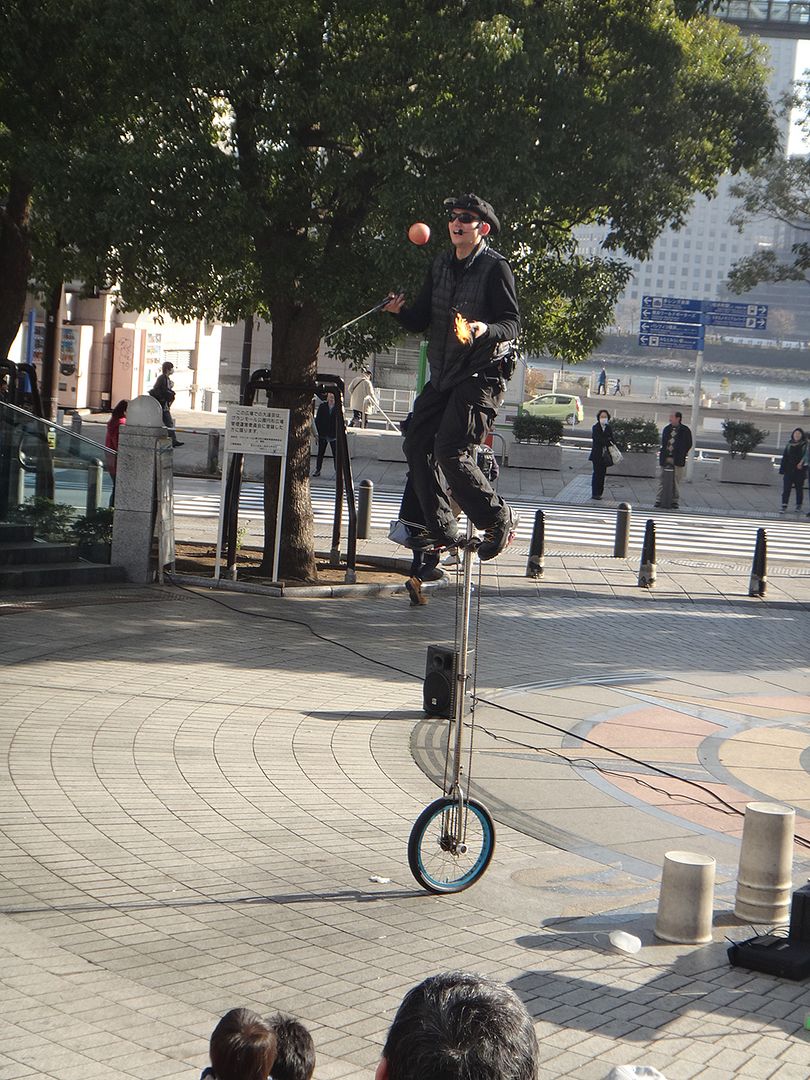 Britt and I went on a ride, and we walked around and ate the rest of the snacks we had bought through our time in the land of the rising sun. A shopping complex had a poster with kangaroo's on it.
'STRAAAAYAAAAAAA!!!!!
After this we had to frantically find another suitcase because we had too much stuff.
We said goodbye to Britt at the hotel as she had to take a train back to Omachi that night. It was so natural, the three of us hanging out, just like old times, that is was crazy to think we wouldn't see her again for perhaps years. But that's the way it goes. We took our own train to the airport and made our way home again.
The trip back was long, with a nine hour flight followed by a seven hour wait and another two hour flight. I watched San Andreas (lady saving simulator, the movie) Ant Man and Terminator Geneysisysys on the plane. Ant Man was great, SA had good visuals at least but Terminator was shit.
When we got back to Hobart, we discovered that my suitcase was missing. My suitcase that contained 97% of all the stuff we had bought, as well as my bank cards and credit cards. The airline people said they would find it and get in contact with us by 9:30 that night, which they promptly did not.
The next day G rang them up, to find that my suitcase had been sent to Perth by accident. The absolute furthest place in Australia it could have gone in the wrong direction. It got delivered fairly quickly however and it was all good.
Like last time, here is a pic of the stuff we got! A bit of a dodgy photo and there isn't as much stuff as last time because we were being more careful, but still not a bad haul!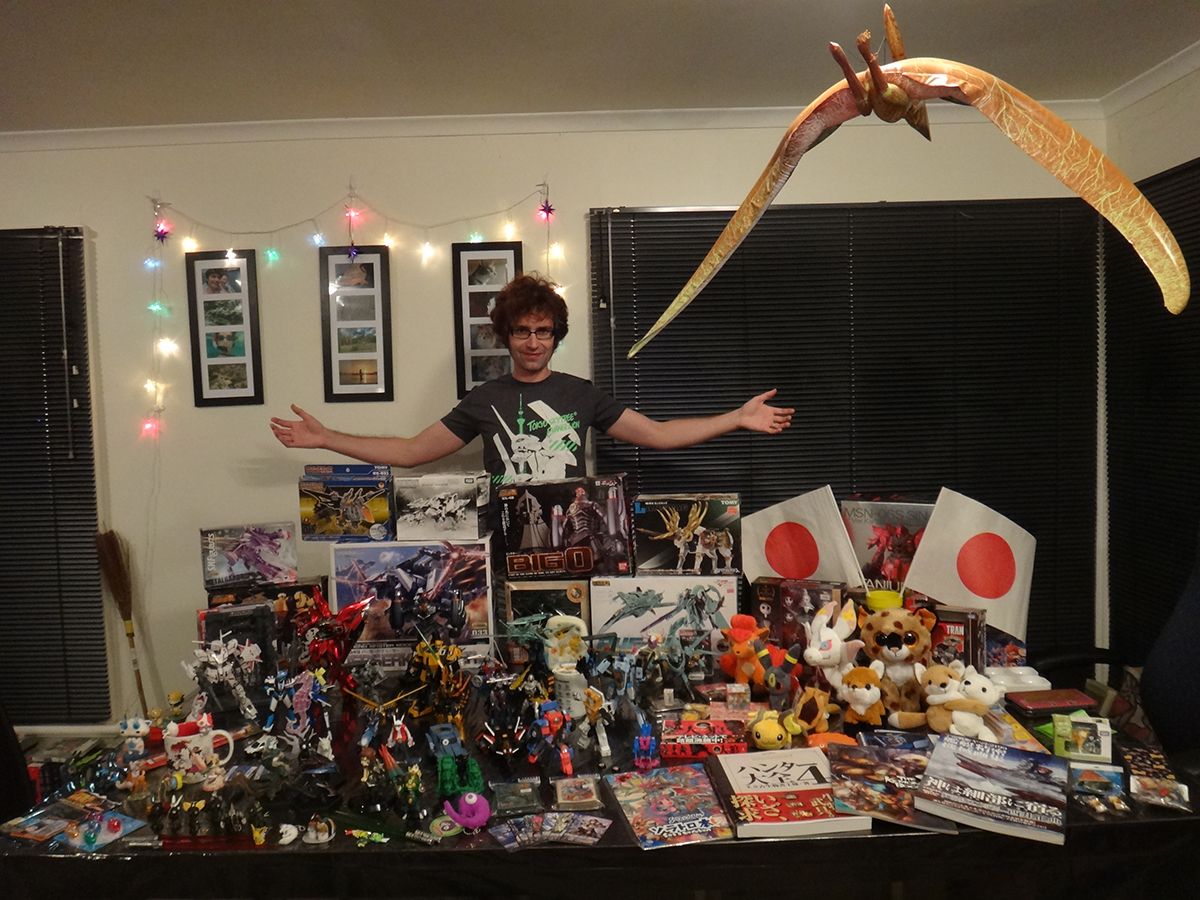 In conclusion, I hope you are still alive after reading all this. Japan is still amazing, although very tiring. It's taken me way too long to write this and I am not used to this heat yet, plus jetlag, so I will take my leave and thanks for reading!
The Lance battle will begin soon, but for now I leave you with Hello Kitty roadblocks in Tokyo.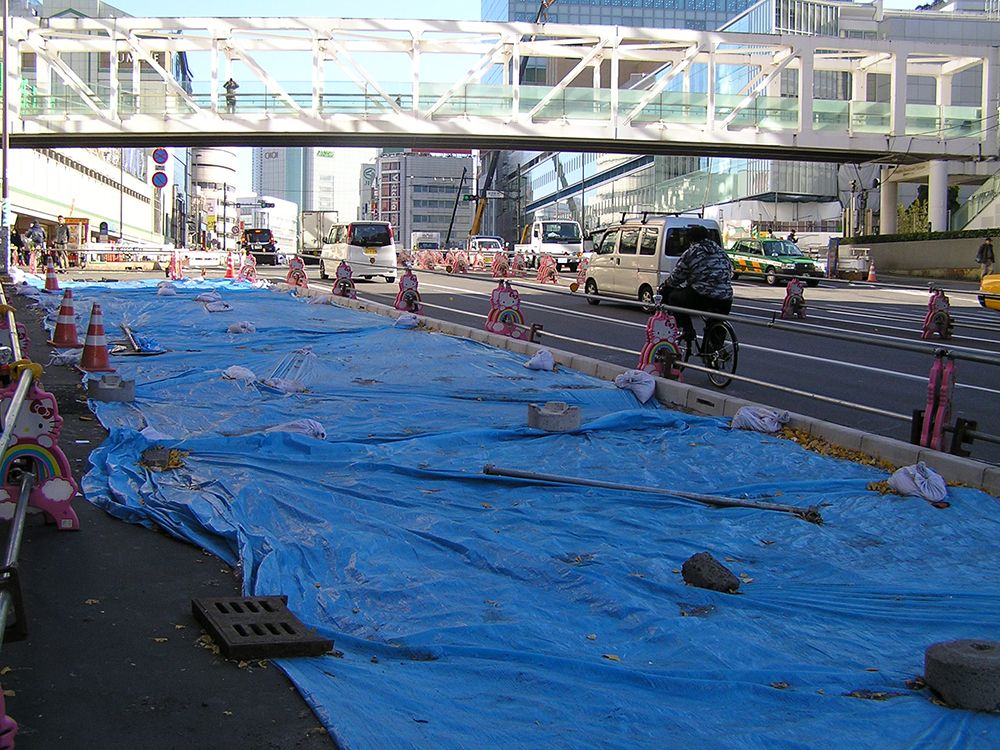 Peace out, plate twirlers, and may the forks be with you.