I had meant to finish off some art last night, but instead, my life unexpectedly became complete. The last two parts of my 3rd Party Predaking "Feral Rex" arrived in the mail and I spent the evening doing something I have dreamed of since I was four years old... BUILDING THE MOST POWERFUL DECEPTICON EVER!
Let me start at the beginning. When I was four years old, I was a big fan of the Transformers cartoon show. This differs from the present day only in that I was shorter and blonder then. One particular transformer was special for me. Five orange transformers with beast alt-modes combined to form him. His name was Predaking. I remember very clearly the short montage clip that would play in between some of my video taped episodes depicting how much of an absolute badass Predaking was. The words "He can lift five hundred tonnes without even straining a circuit" are permanently etched into my brain.
He was, without a doubt, the coolest, strongest and scariest transformer ever. When he showed up in an episode, you knew shit was about to get real. Maybe more real than you could handle.
For my fifth birthday, I wanted only one thing: The Predaking toy. Not only was he huge in the show, he was the only combiner at the time that portrayed his stature in toy form as well. One limb of Predaking was as big as practically any other transformer out there. I could only imagine how big the whole toy must be. If you owned Predaking, you were done. Everything else would just seem lack-lustre after that.
Sadly, it was not to be. My dad did everything in his power to get Predaking for me, and he almost succeeded. He phoned every toy store in Australia trying to find the elusive and fundamental piece of the puzzle: The body of Predaking, the lion robot, Razorclaw. This was a few years after the toy had been released to stores, and it turned out, Razorclaw was now no longer available anywhere.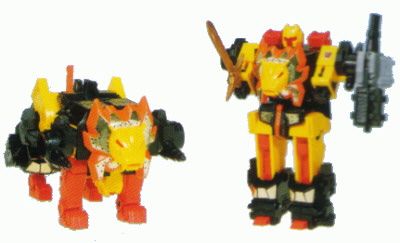 I think my dad was nearly as shattered as I was. For years he would regale the tale of his fruitless quest. I nodded along empathetically each time. Being the saint that he is, though, he got me one part of Predaking, a leg. The bull Tantrum would forever be one of my favorite transformers, but also a reminder of what could have been. I would transform him into his leg form and try to picture the rest of Predaking being attached to him. As well as Tantrum, my dad also got me Powermaster Prime for my fifth birthday. As far as consolation prizes go, that was pretty epic. As you can see, I still have both toys, and fully complete too. (Except for Prime's tiny Powermaster 'I.Q.' whom I lost almost immediately. But that's powermasters for you.)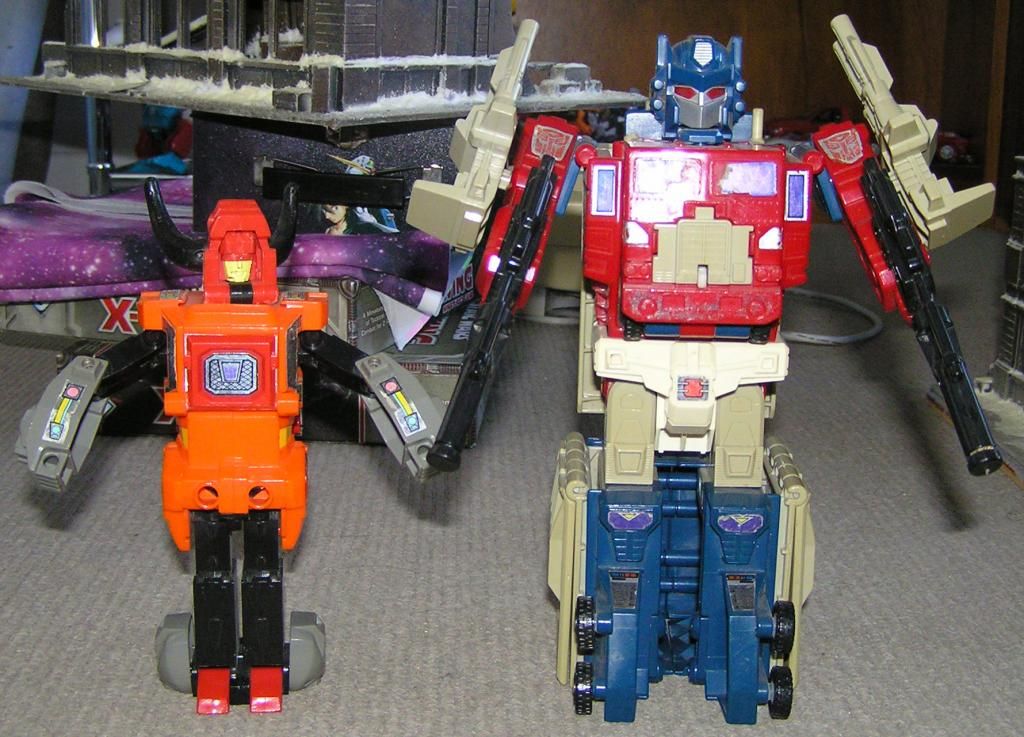 Powermaster Prime became the centrepiece of my transformers collection for years to come. (Until fourth grade when I got a second hand Metroplex) But through all those years, like a shadow hanging over them both, I knew there was one transformer, one missed opportunity, that would have dwarfed them.
This brings me to two years ago. Being a reasonably highly paid adult, and with reissues from Hasbro, I could have easily obtained an original mould Predaking at any time. But that train had sailed. It wouldn't be the same. Toys like that only have significance if they were there with you as you grew up. They need memories attached to them. A G1 Predaking would just be a giant orange brick to me now. Plus, I would have two Tantrums.
That was when I discovered three Predakings in the works from unofficial 3rd Party companies. The early pictures and digital mock-ups were stunning. They had the size and proportions of cartoon Predaking, with the detail and articulation of modern toys. I know I just said that a toy without memories attached is meaningless, but this is something different. These Predakings returned me to my 4 year old self. They reawakened the wonder that I once had. It wasn't nostalgia, it was RELIVING the awe I had experienced as a child at seeing Predaking for the first time. They were that good.
The one that made an impression on me the most was the biggest and best one. It was named Feral Rex, and was made by a company called Mastermind Creations. I preordered the five seperate 'Feralcons' as they became available, and started my long vigil as they slowly trickled in.
I guess it was about a year and a half ago that the first one arrived. By a strange quirk of fate, it was Tantrum (or his 3rd Party name, Bovis); the only Predacon I actually ever owned from the original toy. Many months after that, the next piece had still not been released. There were questions rasied about whether the third party company would ever actually complete thier combiner. I couldn't believe the irony of this. Was I destined to only ever own the same one piece of Predaking for all eternity??!!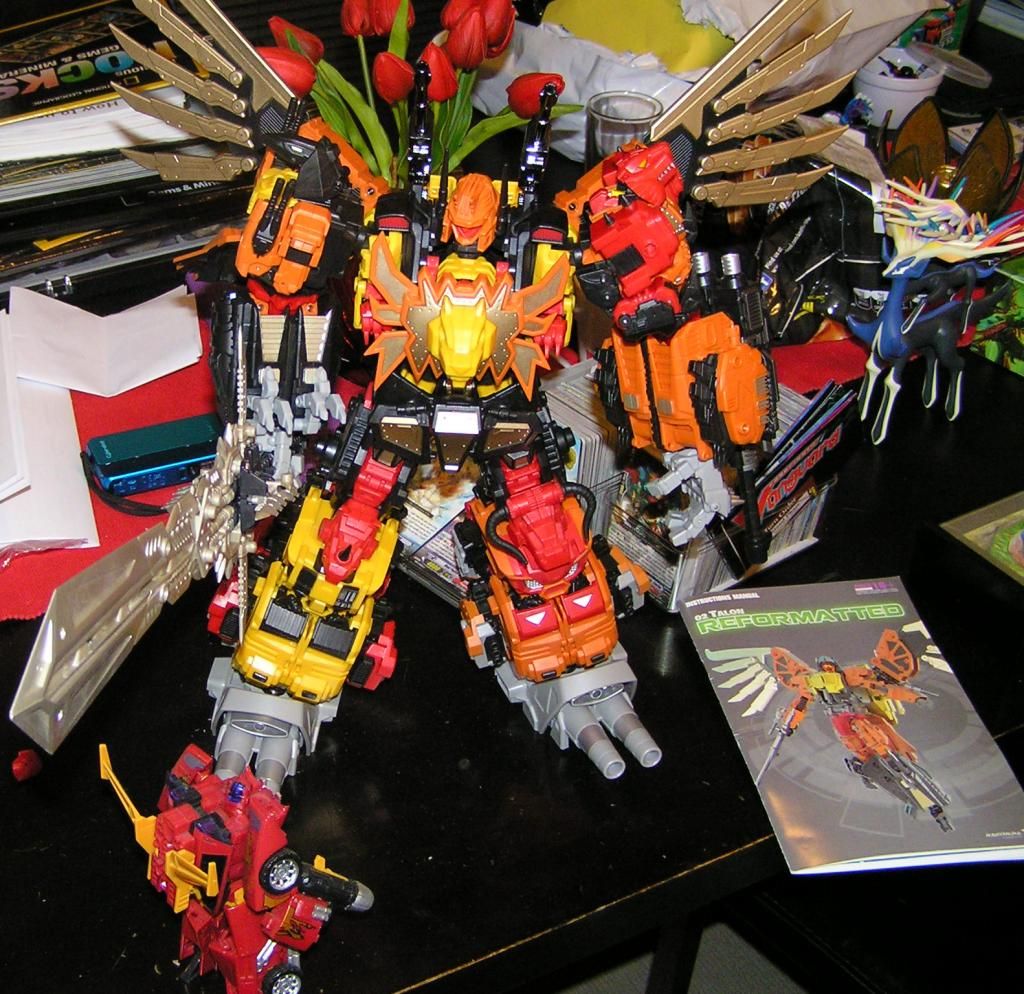 Finally the next piece, Ramhorn (Fortis) arrived, and then Razorclaw (Leo Dux), the transformer who had thwarted me all those years ago!
After a long silence, suddenly the last two pieced became available simultaneously! The direct transfer from my credit card that this caused couldn't have come at a worse time. We were already struggling for money after some huge bills, and now we were overdrawn! In another cosmic twist of fate, my Dad came to the rescue with some lending money. Perhaps because, if not for my lack of Predaking when I was five, I wouldn't even be in this trouble now? Who knows!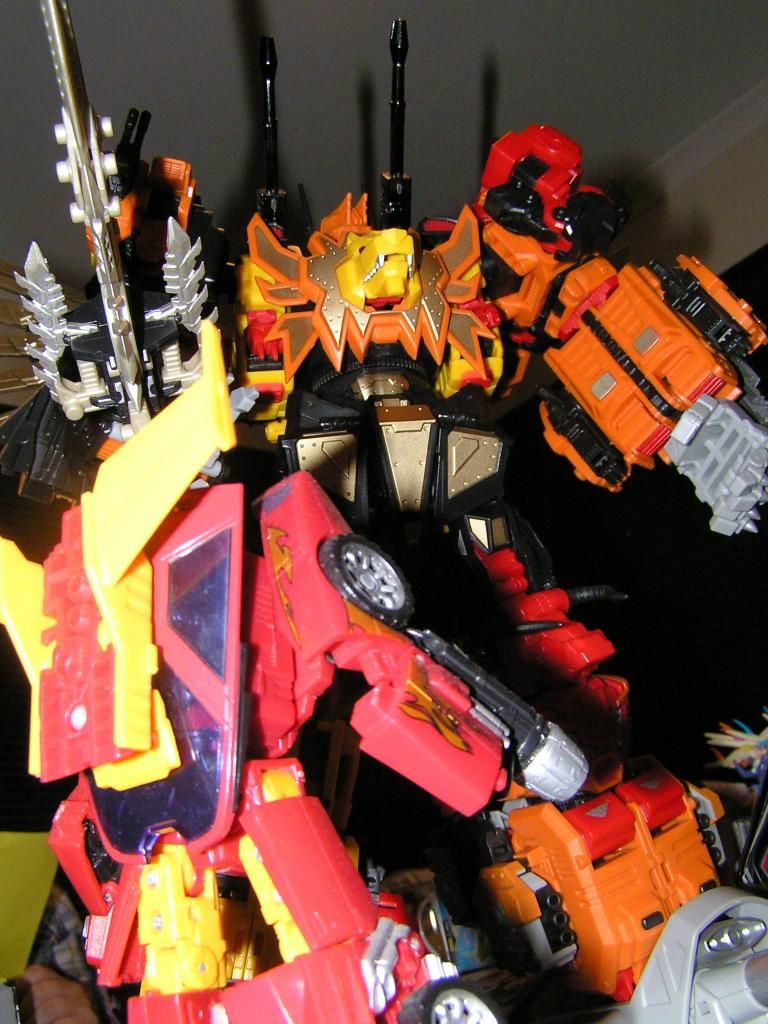 But anyway, the shipping was very fast and last night, to the groovin' sounds of my Beatles CD, I ripped open the packaging in euphoric, child-like glee. All cares about the world faded away as finally, carefully, I combined each of the five individual robots into the ultimate gestalt form; the most powerful force, the effing majetic entity, PREDAKING!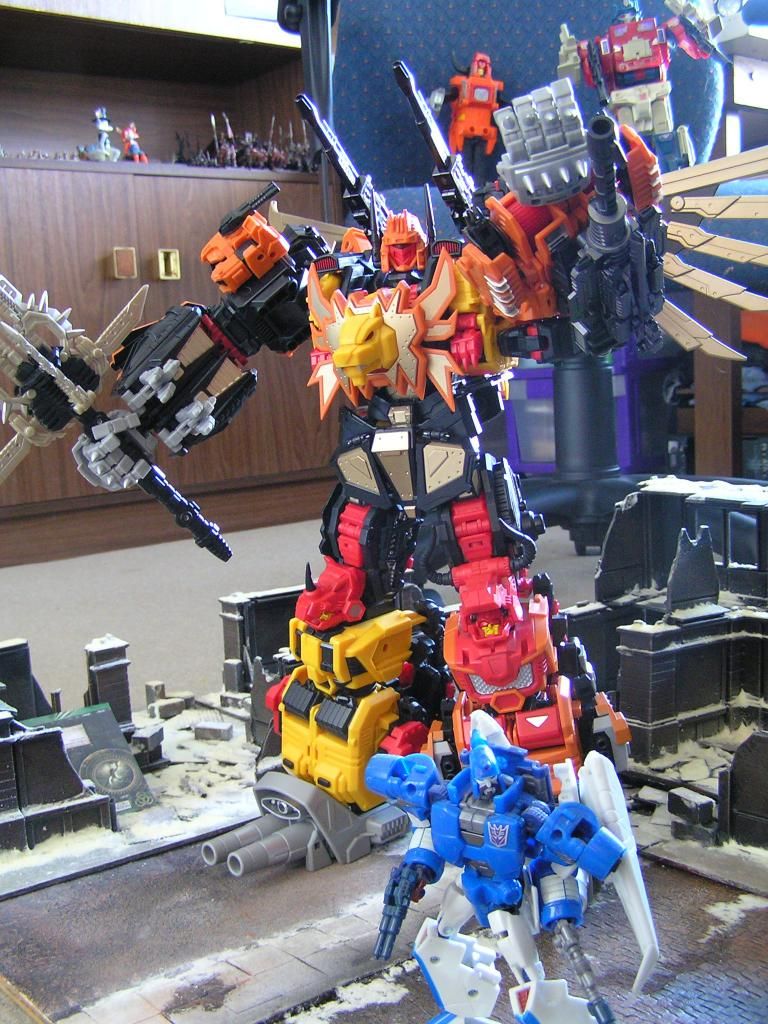 I just thought I would share this amazing moment with you all. I'm probably the only one that actually cares, but it's one of the reasons I haven't been updating as quickly. The other reason is that I've been going to the doctors and radiologists a bit to find out what is wrong with my hips and back. The news wasn't terrible, but not terribly good either. But who cares right? I've got PREDAKING!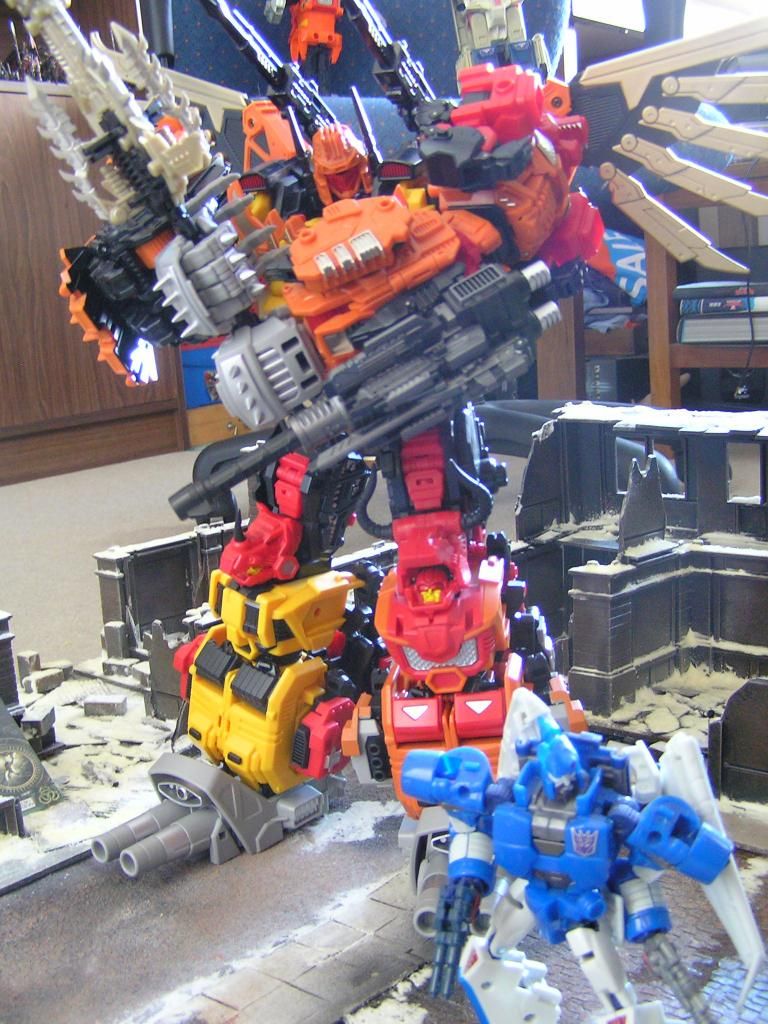 Sorry about these photo's. They're the best I managed to do at the time. I notice I even have the legs around the wrong way on Predaking, and there are some faces showing through at the knees. Oh well. Guess I was too excited. I tried to put in a few references to key Predaking moments and also show the scale of this figure. It's absolutely enormous. As he sodding well should be. These pictures also show some glimpses into what it's like at our house. Let's see... Pokemon, Transformers, X-Wing, Vanguard, Ozy and Millie, Warhammer.... yeah that about covers it.